How much time does it take to review product prices?  Your company's accounts section and your team have worked their wits out preparing proposals for the new fiscal year. You had to observe market trends, predict customer's mind, analyze purchase history, determine the goals and all the while keep an eye on the competitors. Your hard work pays off truly if the deal done by your sales team is according to the latest price lists the same day your proposal is approved. Your company might offer better quotations than your rivals and this works to your advantage. It is possible only if all the sections are coordinated well and updates are available to each and every person on the go. You require contact information that is collected by marketing section; you require data to help eradicate the flaws but it can be obtained from technical support personnel; the exchange of information in a company needs to be and accurate. How can all of these be achieved?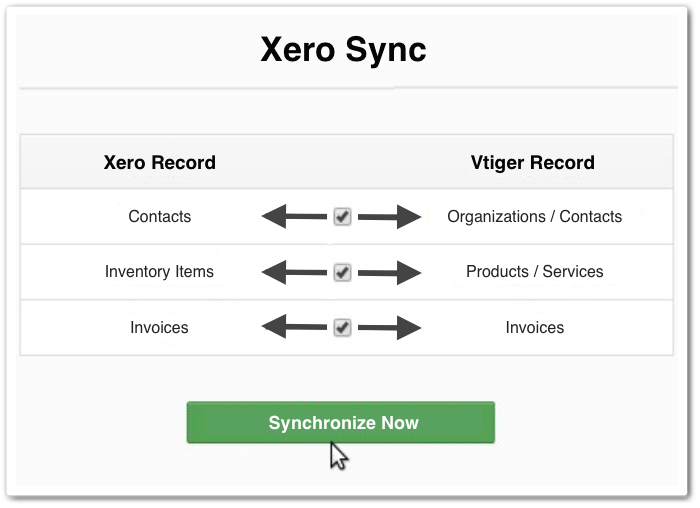 Vtiger 7 provides you the answer by enabling the integration between Xero and itself. It can synchronize data e.g. contacts, invoices, product inventory with Xero bilaterally, or if required, unilaterally that is in most cases from Xero to Vtiger. This helps increase efficiency, speed up processing and accurate transfer of information.

Advantages of Vtiger 7 and Xero collaboration
A lot can be accomplished with the Vtiger 7 and Xero integration
Keep Contact Details Updated in Xero
The process of Quote to invoice can be cut short a great deal. Transform an approved proposal into invoice by Vtiger 7. It can be sent to the accounts for further processing i.e. to update contact information including phone number and email address through Xero. The error-free outcome is received in about no time.
Synchronize Products and Prices in Vtiger 7
Sales persons require information at hand about all the time to finish a deal. Delay is not an option in the current state of technology. Bidsketch https://blog.bidsketch.com/land-clients-with-proposals/?wide=1 did a survey of 25,000 proposals to find out that deals with slow responses are rejected by clients most of the time. Synchronization of Xero to Vtiger provides all the necessary information needed to make a successful quotation.
Invoice Operation is 90% Rapider
There is no need to manually forward an approved quote via email and to submit the credentials into record, subsequently minimum chances of inaccuracy. You can ensure sending invoices to clients automatically by synchronizing the Vtiger contact list with Xero.
Open up New Gates for Sales Using Purchase History Stats
If a mobile manufacturing company figures it out in time that users tend to purchase the protecting covers right after getting a device, giving appropriate offers at the spot may prove lucrative. The purchase histories available in Vtiger 7 can help make useful sales policies. The sales managers can grab up sale and cross sale opportunities.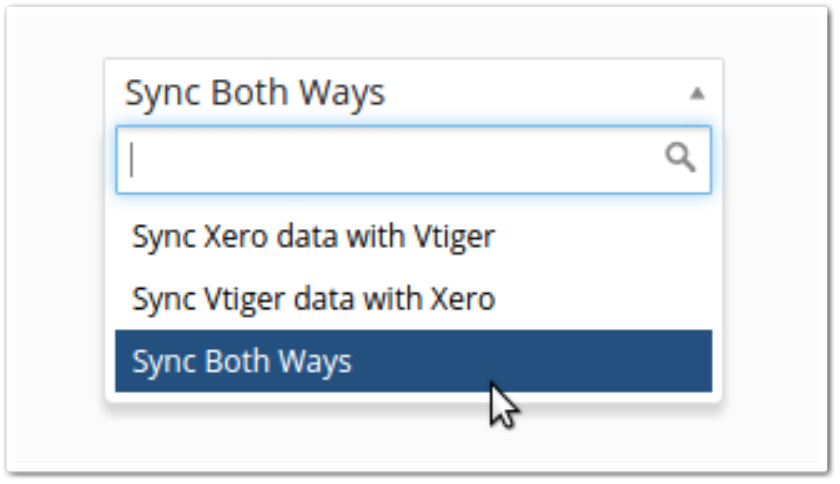 Synchronization of Records is Fully Customizable
Depending on the business type and style, keeping the record updated in one or both databases is up to your company's demands. Vtiger 7 exhibits both of the openings.
https://vtiger.com/blog/wp-content/uploads/2015/04/Bidirectional-1.png
Unilateral sync– Keep One of Either Vtiger 7 or Xero as the Master Record
It's quite possible that your business prefers keeping only one of the systems as a store. Unilateral sync is handy for the cause. One-way sync ensures that changes made in any other don't affect the integrity of that store. You can keep either one of Vtiger 7 or Xero synced to the other.
Bilateral Sync– Recently Update Record Updates the Outdated One
On the other hand, bilateral synchronization does not require the data entry at both ends i.e. data entry in Vtiger 7 by the sales rep or by the accounting team in Xero. Once a record is updated in one database, the information would be available immediately in the other system.