Custom Module & Relationship builder for VTiger is a very handy extension that enables the CRM admins to create new Custom Modules in the blink of an eye. These custom modules are made following VTiger standards strictly. In addition, the relationship builder allows CRM admins to link together existing modules as well as new custom modules. It supports 1:1, 1:M and M:M relationships. All the modules made by this extension includes Activity, Documents & Comments widgets and Modified By, Created By fields.
New Feature
 We have added a new feature in this extension to make it a more powerful tool. Users can now send emails from a newly created custom module. You can see the 'Send Email' button in the top right corner of the record of the custom modules. Clicking this button will open an email composer. You can choose to send emails to any of the record from any of the modules as well as map data from fields of related modules into the email. The sent emails are shown in the related emails section of that record.
Use Case
Take an example of Organization module. It is linked 1:M to the Contacts module. You can open a record in organizations and send an email to all the contacts related to it. The email will show in the related emails list of that record.
How To Send Emails from A Record
To use this feature, you have to follow these steps:
1Go to a record in the selected custom module.
2Press the Send Email button in the top right corner.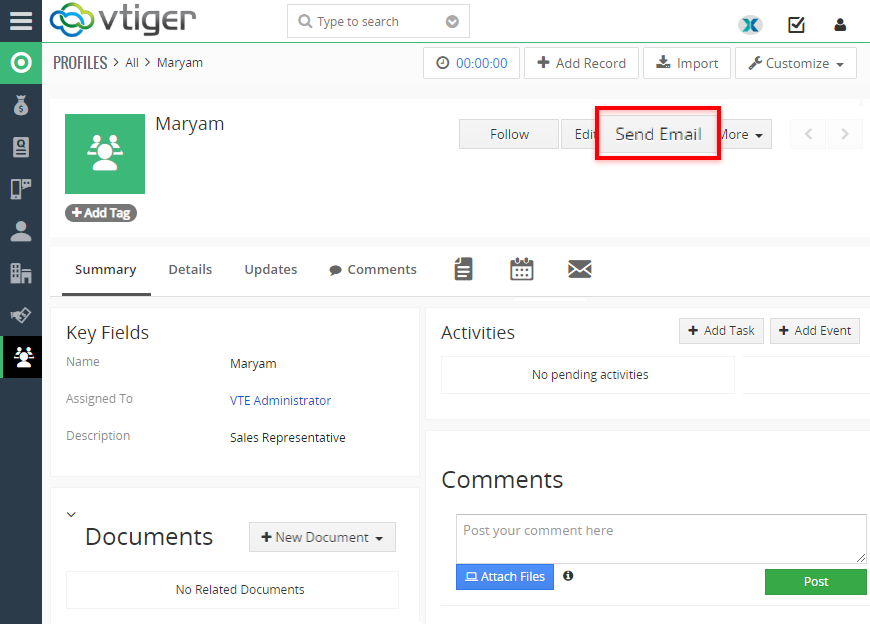 3It will open an email composer from where you can select records from a list of modules.
4Compose the email using RTF or select from pre saved template.
5You can browse files from the system and send as attachments too.
6Hit 'Send'.

Questions
This enhancement enables the users to avoid the fuss of going to another platform for sending emails and saves time by simplifying the communication. To learn more, please see our user manual for Custom Module and Relationship Builder. This extension is included in the Extension Pack and is available for all our subscribers. If you need more information or have questions, send us an email at [email protected] or visit www.vtexperts.com for live chat – we usually respond within 24 hours.
Please note that we design our extensions to be as flexible & configurable as possible, so if you feel uncertain if this would work – email us and we'll be pointing you to the right direction. Also, we can add features or can customize extensions to meet your needs and make sure you will be up and running in no time. If this extension is "almost" what you need – we can work with you to make necessary changes so it is "exactly" what you need.