Although hundreds of vTiger extensions are available on vTiger Marketplace, selection of suitable ones may require some time and careful thoughts. So we gathered a list of 7 vTiger extensions that can help you a great deal in enhancing the productivity and efficiency within vTiger CRM. These extensions make some very simple changes like adding buttons, displays etc. to standard and custom views. So you can avail the same interface while saving time and spare efforts.
vTiger Quick Edit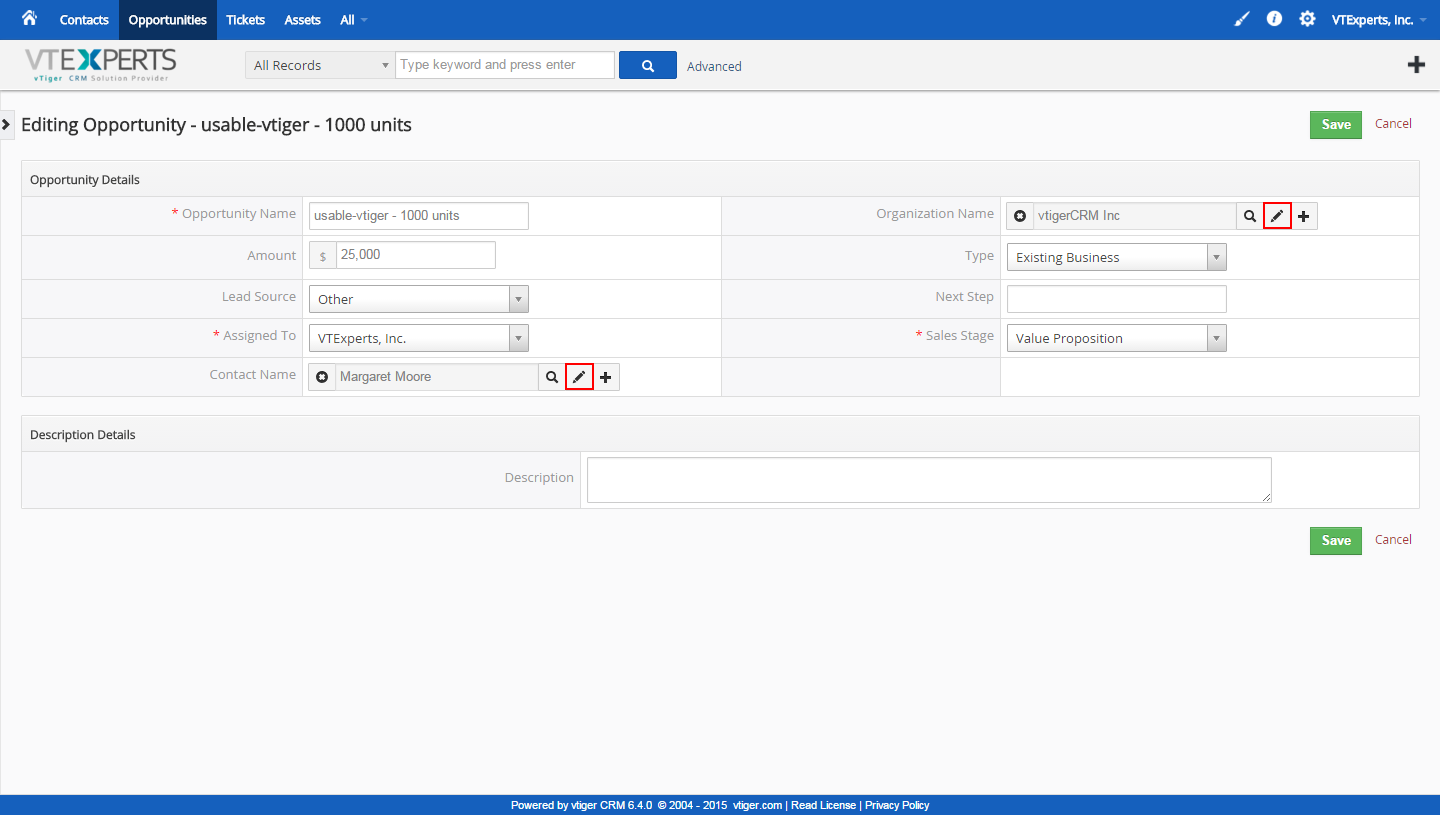 Automation is about everything at your fingertips, isn't it? Or at least it should be. That is what vTiger Quick Edit provides. The extension leads the list by enabling a very simple "Pencil" icon beside every relevant field, pressing which triggers the Edit function. The sole purpose of vTiger Quick Edit is to allow modification of related records (1:m, 1:1), while working in a record's Edit/Create view.
For more details including screenshots, live demo, videos, and purchase link, visit vTiger Quick Edit's market page.
 Diligence of vTiger Quick Edit:
Features 1:m and 1:1 similar fields
A familiar "Edit" button for all the relevant fields while working in a record
"Quick Edit" works with a single click (Quick Create View)
Tailor-made, ready to use
Simple and tidy
Module Manager Compatible
Available on vTiger Marketplace
vTiger Related Record Counts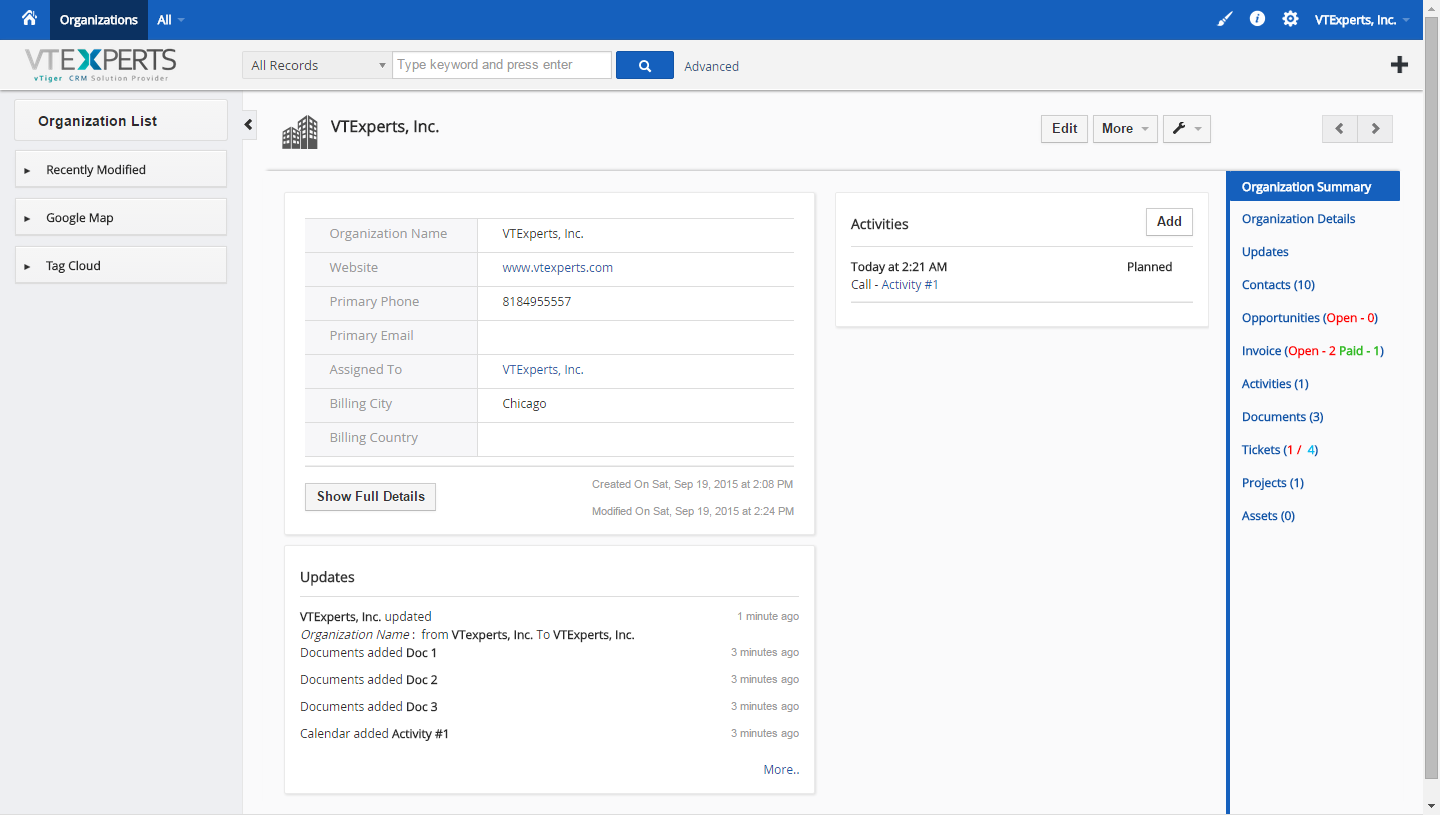 This extension of vTiger intuitively displays the linked records of an account. Say it's any record like invoices, tickets, opportunities, etc. The display is very simply designed to avoid nuisance.
vTiger Related Record Counts customizable; you can fill in the counts without  any limit, while specifying a condition or filter apiece. Even the colors and help text are customizable.
Visit vTiger Related Record Counts for pictorial description, live demo, videos, and purchase link.
vTiger Related Record Counts does:
Show you the number or relevant records on the neatly arranged Related List
Modification of Multiple Counts, like Invoices (Paid – 2/ Outstanding -3)
Have a supple Interface; you can modify tiny details like colors, custom filters/conditions etc.
Support Standard and Custom Modules
Support Module Manager
Available on vTiger Marketplace
vTiger Auto Clipboard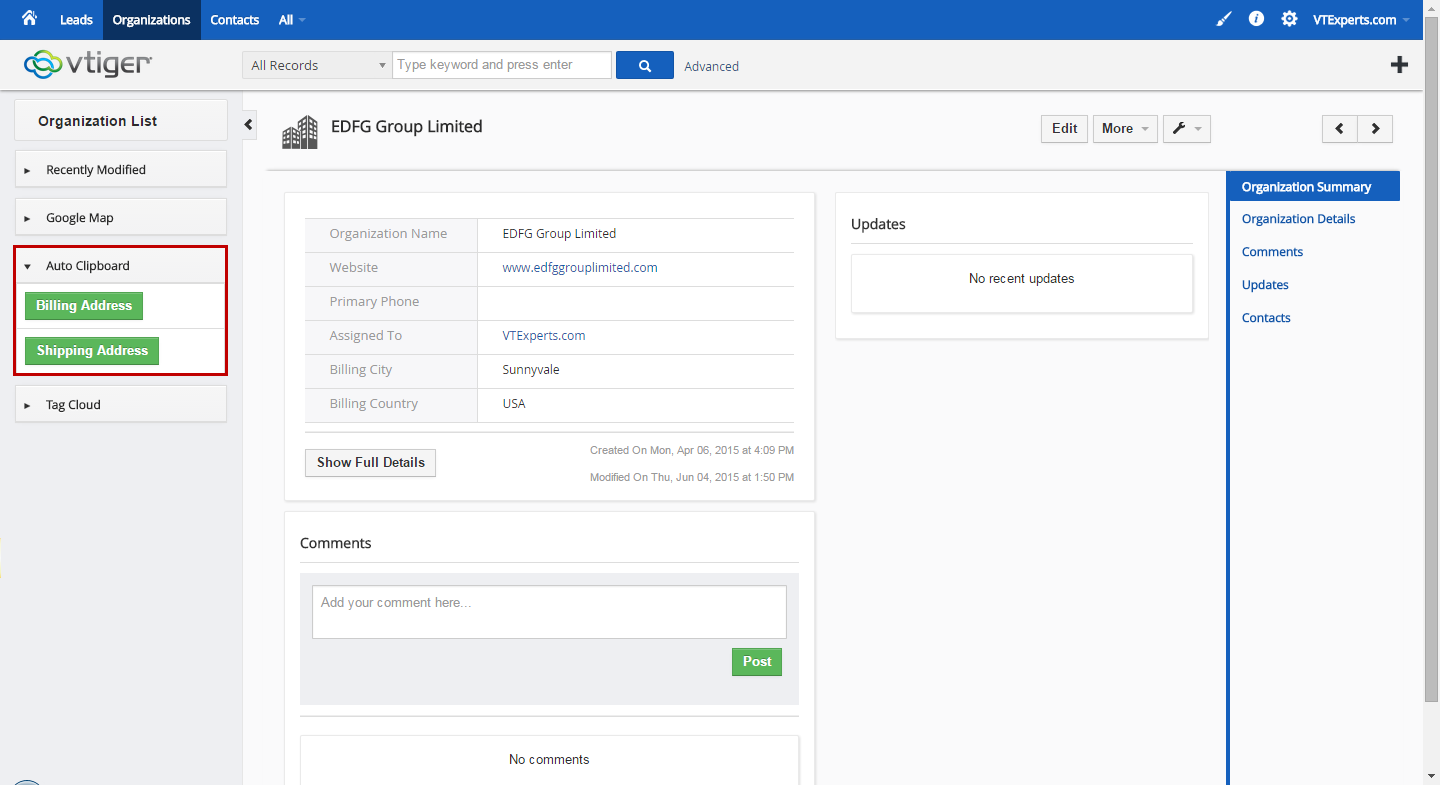 Is there a better way to enhance productivity as saving tiny fractions of your team's time? vTiger Auto Clipboard quickly copies data from vTiger CRM to Clipboard with a single click.
In addition, the configuration panel and user interface satisfy formatting demands. The extension neglects empty lines and fields, and is capable of supporting multi-line structure.
The market link of the extension includes illustration, live demo, videos, and purchase buttons vTiger Auto Clipboard.
Renowned Preferences of vTiger Auto Clipboard:
Single-click copying of data from vTiger fields to clipboard
User-friendly interface
Ability to configure multiple "Clipboard" templates
Automatic removal of empty lines
Works smoothly in all famous browsers including Firefox, Chrome, Safari, IE
Compatible with vTiger Standard and Custom fields
Compatible with vTiger Standard and Custom Modules
Module Manager Compatible
Available on vTiger Marketplace
vTiger Document Preview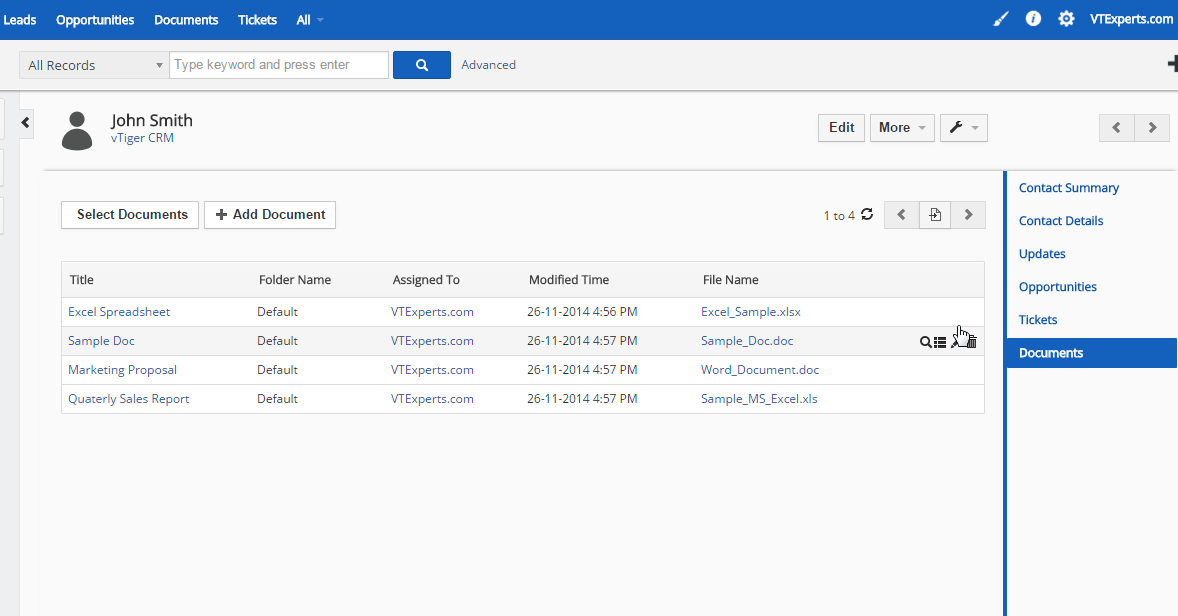 The fourth extension on our list to enhance the productivity is vTiger Document Preview. As the name depicts, the extension allows you to view your vTiger Documents online without necessarily downloading or opening one. In any module, Documents list view, Document Select Popup, and Document Related list show the preview of the documents. The extension supports most of the file types (over 30).  The API that is used for the documents preview is Google Docs API, which also eliminates the need of the direct interaction with Google Docs.
For more information on the extension including pictorial guide, live demo, descriptive videos, and pricing details, visit the extension page vTiger Document Preview.
vTiger Document Preview:
Provides the ability to Preview Documents without clicking or opening one
Is supported on Documents List view, Select Document Popup, and All Document Related List
Supports "External URL" for locally hosted instances
Works with more than 30 file extensions including .JPEG, .PNG, .GIF, .BMP, WebM, .MPEG4, .3GPP, .MOV, .AVI, .MPEGPS, .WMV, .FLV, .ogg, .TXT, .CSS, .HTML, .PHP, .C, .CPP, .H, .HPP, .JS, .DOC and .DOCX, .XLS and .XLSX, .PPT and .PPTX, .PDF, .PAGES, .AI, .PSD, .TIFF, .DXF, .SVG, .EPS, .PS, .TTF, .XPS, .ZIP, .RAR, .TAR, .GZIP, .MP3, .MPEG, .WAV, .OGG, .MTS
Compatible with all Standard vTiger Modules
Completely modular, cannot make changes to original files
Available on vTiger Marketplace
vTiger Google Address Lookup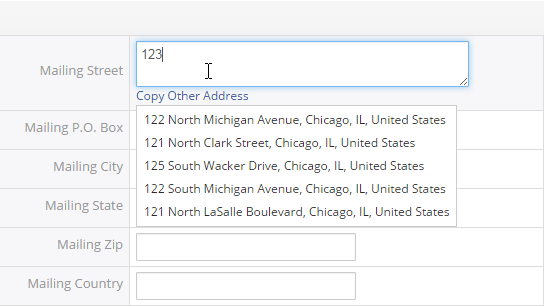 While we are at the topic of cutting off the extra usage of time, there is another extension by vTiger in market that suggests addresses from Google Maps Service during typing an address. Yes, vTiger Google Address Lookup allows you to efficiently and accurately enter an address.
The vTiger extension supports custom address fields, which is the ability to configure any fields to work as "address lookup field", in the Configuration Panel. You can limit the address suggestions to a specific country for both Detail and Edit sections.
The aims of the extension are data accuracy and time saving, both of which it successfully fulfills. Instant "As you Type" results also play vital role in enhancing productivity, efficiency, and data accuracy.
vTiger Google Address Lookup's market page contains further information plus Live demo, videos, and illustrative guide.
Hallmarks:
Capability to map Google Maps Fields into vTiger Custom Fields
Can be integrated with Google Maps & Routing Extension (Multiple Address Support)
Suggest address as keywords are entered in the search field
All Standard vTiger Address Fields are pre-configured for ease of use
Intuitive Configuration Panel for custom fields development
Option to limit search to a specific country
Compatible with Standard and Custom vTiger modules
Supports Detail and Edit/Create views
Completely modular; Reserves vTiger core files
Available on vTiger Marketplace
vTiger Macros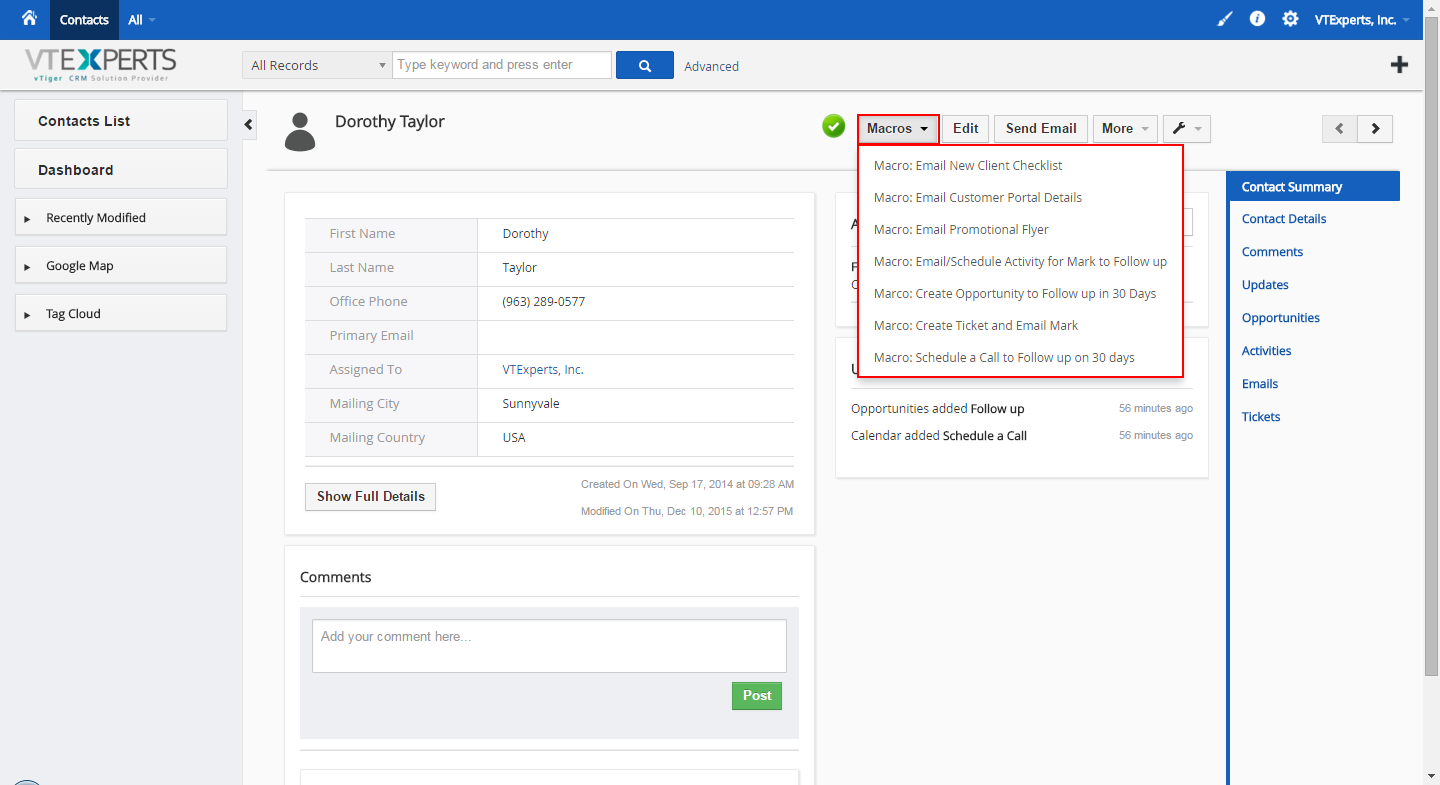 Macros is a unique extension by vTiger which operates on the basis of Workflows functionality of vTiger CRM. The extension permits users to design predefined actions (workflows) and trigger them from the record Detail/Summary View with just a single click. vTiger Macros creates a button named "Macros". It also shows an icon upon the successful execution of a Macro.
The extension features standard vTiger workflows and supports all the tasks including (Field Updates, Custom Entity Creation, Adding Comments, Sending/Scheduling Emails, Creating Activities & More).
To learn more about the extension including live demo, video guide, and purchase visit vTiger Macros.
More information about vTiger Workflows is available here.
Key Features:
Facility to trigger a Workflow by one click
Integration of "Macros" button for easiness
Runs vTiger Workflows and provisions the standard Workflow Tasks including Field Updates, Emails, Record Creation)
Provide the quick access by showing all Macros on the record Detail/Summary view
Compatible with Standard and Custom Modules of vTiger
Supports Module Manager
Available on vTiger Marketplace
vTiger Related & List View Edits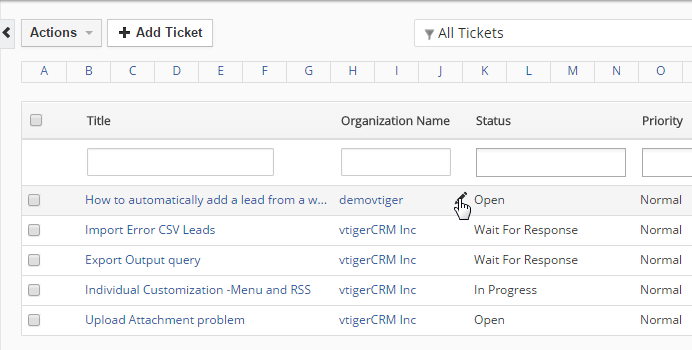 We conclude our list with this power vTiger extension Related & List View Edits. With this extension you can customize the fields within any Related or List view. So the records will be configured according to your settings. The extension is compatible with all the custom & standard fields as well as all field types like text, picklist, multi-select, currency, lookup/relation, etc. Plus, custom filters and views are compatible.
Next time, you spot a mistake in a record, correct it right there and move on.
Videos, Live demo, and screenshots are available here.
vTiger Related & List View wins users' attention by:
The capability to edit a record's fields on the Related & List view without the necessity to open it
The simple Configuration Panel with the power to define the fields that can be edited
Being compatible with Standard and Custom vTiger filters
Being compatible with Standard and Custom vTiger fields and field types
Being compatible with Standard and Custom vTiger Modules
Supporting Module Manager
Available on vTiger Marketplace