There are two ways in VTiger to assign users to Tickets, Leads, Opportunities etc. One would be to assign a user manually to a record. The other is to automated the assigning of records on the basis of conditions configured in the settings area. The second method is possible using our new extension Round Robin Assignment for VTiger.
Round Robin Assignment
The VTExperts Round Robin Extension automatically assign users to tickets, leads (or any other module). Round Robin Policy configuration consists of a trigger field e.g. "Ticket Status", value (Unassigned Value) that will identify any unassigned tickets e.g Status is "NEW" and value (Assigned Value) that will be used to update ticket when it's assigned e.g Status is "Open".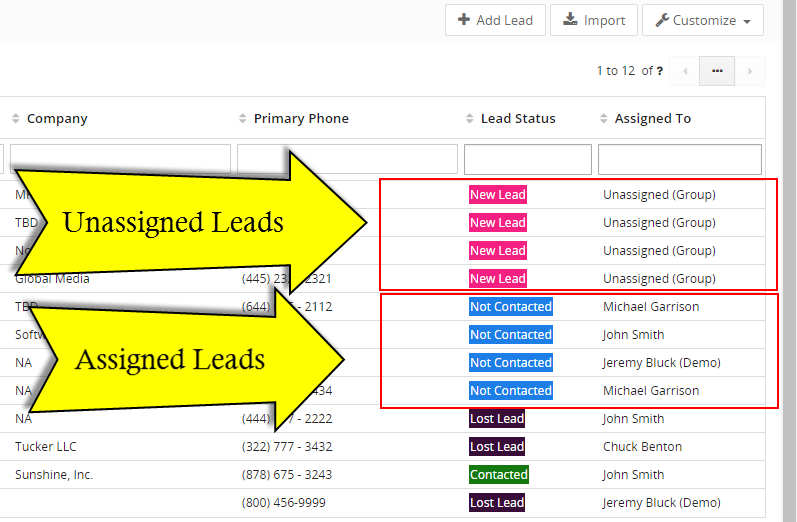 You can set the automation to run for only online users or do not distinguish at all. The configuration panel lets you setup the conditions. You can select module, status field (unassigned and assigned values) in order to specify if a record is assigned yet or not.
The assignment types include standard 1,2,3 – 1,2,3, which means it assigns records to users in a sequence one by one. The other one is smart system that assigns users to records based on efficiencies. That means the one with the more productivity gets to do more. This is helpful when the sales reps get commission for closing more sales.
Tickets can also be assigned to a preferred user who would be any of the user from your organization. The settings also allow to select only some users who will be the part of the Round Robin assignments.
The assignments get logged as a list in the configuration panel. So you can visit and see all the recently assigned records in one glance.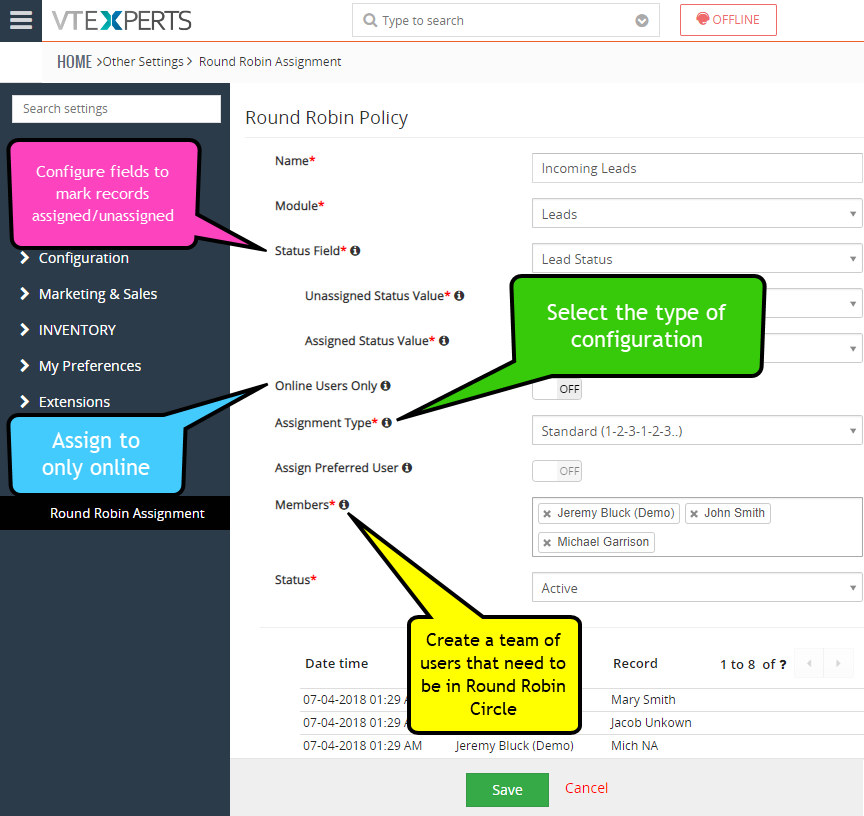 Questions?
To learn more, please see our user manual for Round Robin extension. The extension is included in the Extension Pack and is available for all our subscribers. If you need more information or have questions, send us an email at [email protected] or visit www.vtexperts.com for live chat – we usually respond within 24 hours.
Please note that we design our extensions to be as flexible & configurable as possible, so if you feel uncertain if this would work – email us and we'll be pointing you to the right direction. Also, we can add features or can customize extensions to meet your needs and make sure you will be up and running in no time. If this extension is "almost" what you need – we can work with you to make necessary changes so it is "exactly" what you need.