We often find ourselves versus this requirement by our customers; "Is it possible to make several copies of an invoice?". And we got tired of answering "No" and came up with a solution.
Revisions/Copies of VTiger Records
VTExperts' development team created this customization for VTiger 7 and VTiger 6, that allows to create revisions of any record WITHOUT disturbing the actual record numbering. Most of our customers asked for revising Quotes and Invoices – so we will make those the focused modules for the writing sake.
What Does it Do?
With this customization implemented, VTiger users can create as many copies of any standard or custom module's records as needed. For example, if you clone/duplicate an invoice or a quote, it will only create a revision and not disturb the ongoing numbering for quotes, invoices etc.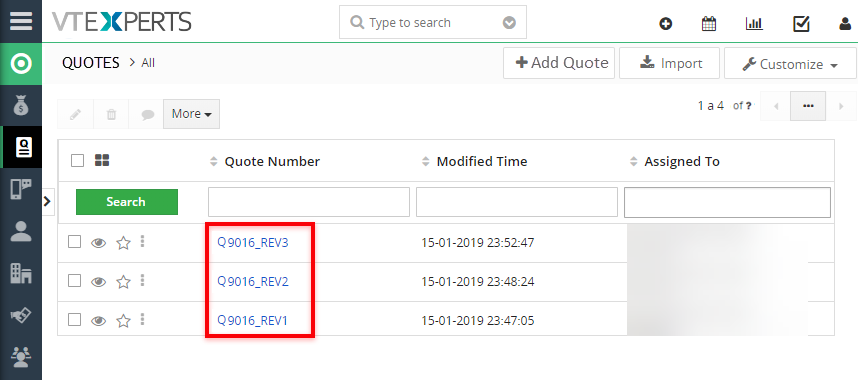 How Does it Do?
Here's how we designed it. Note that this is not the only way to do it. We can customize it anyway you need:
Open the record you need to create a copy/duplicate for.
Click "More"
You will see the option "Duplicate and create Revision"
Once you click this button, it will duplicate this invoice (in edit mode) and give the quote/invoice/record no. as QUO-00001_REV1/INV-00001_REV2 etc.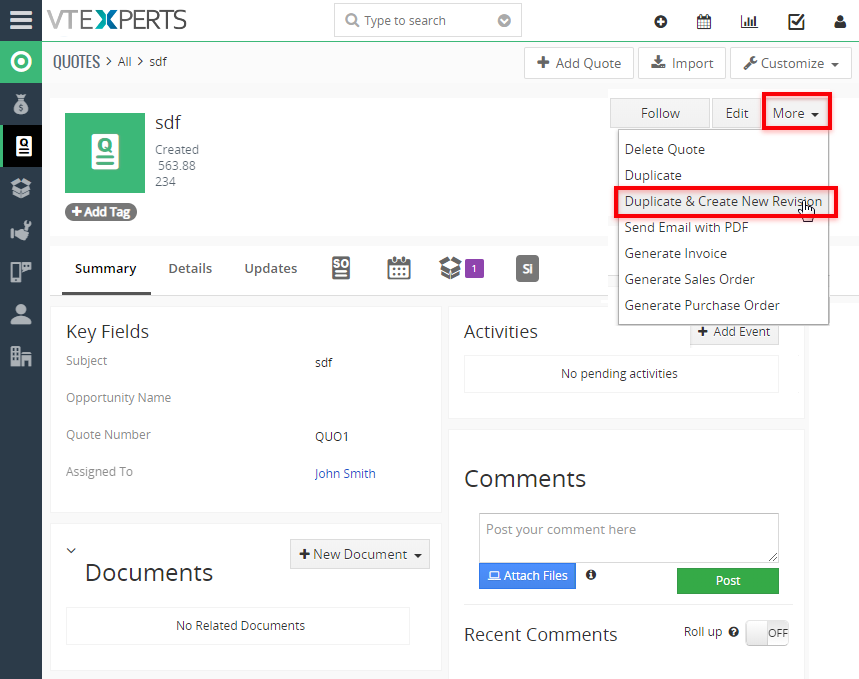 You can create as many revisions of a record as required. The numbering will keep adding sequel to REVXX for example REV56, REV98 etc. It would also not disturb the ongoing number of records e.g. QUO-3563 will stay 3563 with the addition of _REV00 – no matter how many revisions you do.
The duplicate feature simply works as the standard Duplicate for any record. The REV00 suffix is also changeable to any combination of numbers and/or alphabets. That's just how we did it for one of our clients.
Questions?
We have done hundreds of customizations and some are documented here. The customizations are not limited to this list and we can make your VTiger CRM work any way you want. If you have a specific requirement, just let us know. We'll review it and let you know the best practice and how can we make it work for you.
We also offer this extremely beneficial pack of extensions with full of useful features. This usually covers needs of our clients regarding CRM in most cases. However, if you could not find a specific feature/extension for your use, simply send us an email to [email protected] or join an expert over the webchat.