Advanced Custom Fields
The Advanced Custom Field Extension was designed for system admins to simply add Advanced Custom Fields to selected modules, where needed, other than standard fields. The Advanced Custom Fields are of 3 types – HTML Description Field (which supports RTF), Assigned to Field (which is really a user picklist) and Upload Field (which allows PDF documents and Image Uploads). When it comes to the number of Advanced Custom fields added, there is no limit. It supports Edit/ Create/ Detail View.  Supports all the Standard and Custom VTiger Modules as well.
Upload Field for PDFs and Images
Now, the feature that we are discussing here is the Upload Field. An upload custom field allows to add an image as well as PDFs to any record of any module. You can add as many custom upload fields as required – there's no limitation for it.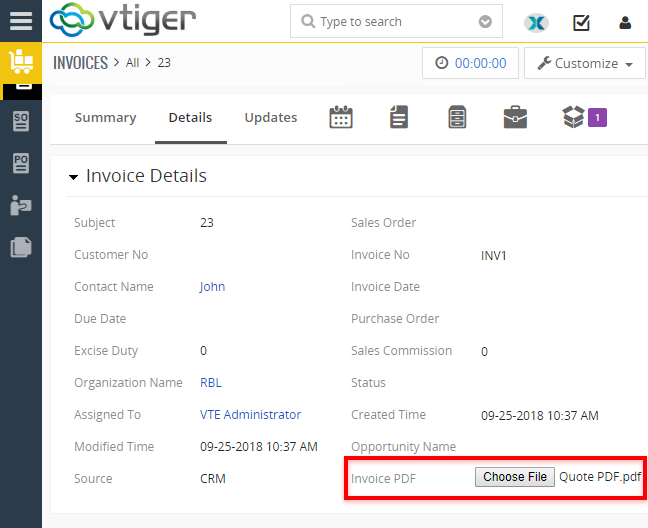 Use Case
For instance, take an example of Quotes Module. Users can upload an image of the Product as well as the PDF of Invoice sent to the client. The images may contain the real time visuals of the products, as well as contain user manual of it to be sent along.
How to Configure the Upload PDF/Image Feature 
To configure this feature:
Go to the Settings > CRM Settings > Module Management > Module Layouts and Fields.

Select the Module you want to add the Advanced Custom Field in and

press the +Add Custom Fields button.
Select the custom field type as "Upload field".
The upload field will now show in the records of that module. The desired PDF or Image file (Thumbnail file) can be browsed and uploaded in a specific record now.
Questions
To learn more, please see our user manual for Advanced Custom Fields extension. The extension is included in the Extension Pack and is available for all our subscribers. If you need more information or have questions, send us an email at [email protected] or visit www.vtexperts.com for live chat – we usually respond within 24 hours.
Please note that we design our extensions to be as flexible & configurable as possible, so if you feel uncertain if this would work – email us and we'll be pointing you to the right direction. Also, we can add features or can customize extensions to meet your needs and make sure you will be up and running in no time. If this extension is "almost" what you need – we can work with you to make necessary changes so it is "exactly" what you need.