Users make and break brands. And with the current modes of communications at disposal, it happens rapider than expected. Until a few decades, customer could not have thought of actually interacting with a representative of a company, but the sales rep only. Then the system evolved giving clients the facility to at least make the companies listen them out. Recent criteria for customer support were also not challenging enough for businesses, which let users to register their complaints and organizations had to fix those. Modern system of customer care is getting more responsive, active, and reliable. Tough competition and social media awareness are the sources of this outcome. Past stories clearly state that it's not going to be the same. People are going to judge at social media, companies then will try harder to meet their needs, top players like Amazon and Fedex have already raised their standards. And it doesn't end here; one click search on Google allows access to hundreds of rating websites, as the survey system has grown.
Studies show that companies, once again, are in the process to develop and reinforce their systems. Phone and email connections were decent, but with the growth of means of communications, customer care departments getting outdated faster than ever.
Social media are the center of attention these days. Users can convey their issues to support teams while browsing through hot news or sharing golden memories with their loved ones. But as social media traffic thickens, it's not a child's play to keep up with the speed. Maritz Research Company revealed some critical stats apprising that about 70% of the tweets are not lucky enough to get answered. As social media interactions are mostly not looked after by very enormous teams, client frustration still occurs. And they do not like not being frustrated. Moreover, social media have turned from being a luxury to necessity. With the development of tools, not only social media management have been modernized, but the platforms have emerged as extremely strong yet cost-effective kits for support, sales, and marketing.
As always, Vtiger CRM progressed first hand and introduced the Social Module that is up and running in the latest version, Vtiger 7. Most of the social media goals can be accomplished including sales, marketing, and support. It grants full package comprising identifying demands, action tools, and measure the impact.
Auto-tickets and Customer History Make Social Support Exceptional
Keeping the response time minimum is as vital as the response itself. About 60% of the clients that communicate via twitter, if not answered in time, find it unacceptable and take further action including change of brand.
Twitter is the most reliable social medium that is used for customer care right now. Replying to users' concerns in lesser time is essential but not effortless. But with Vtiger 7, it can be.
Automatic Generation of Tweets-Based Tickets and Contacts
Assigning an automated ticket after receiving a complaint or hearing an issue is the first step of about every company's support. It happens when an email or a phone call is collected. So when someone tweets with an issue, Vtiger 7's social integration can generate an auto-ticket. So there is no need to convert every tweet into tickets manually. Also, when a client approaches the team for the first time, a unique record will be created as a contact.
Save Several Minutes per Tweet by 1-click Customer History
Got a tweet? Open the history and check for the specific user's subscriptions, previous tickets etc., and then trigger the relevant support tools. While customer care officer was indulged in this process, the user who tweeted may have been frustrated marking the company "Slow", not to mention hundreds of tweets waiting in the queue.
Vtiger 7 assigns customer a ticket while allowing you to browse his/her particulars and history. So rather than combining pieces of the puzzle, solving problem is preferable. In the meantime, more tweets can be responded.
Marketing: Never Miss a Sales Opportunity or a Complaint Again
According to "Mention", you are missing 30% of the total discussions about your brand, whether a user did or didn't include #hashtag or @mention. Now that is a percentage you cannot ignore, because unknowingly hundreds to millions of your opportunities are being missed depending on the total number of subscribers. But this loophole doesn't go unnoticed by Vtiger team.
Research Market and Unparalleled Perceptions
There is an option named My Search Streams in the Social module of Vtiger 7. The purpose of this tool is to track social conversations, mentions, hashtags, and competitors through streams. The result is error-free feed containing results including those that would have been missed otherwise.

Utilize the Tracked Tweets to Create Leads, Contacts, and Opportunities
It depends on what your product is. Apple would track trends about cell phones, what people applaud and what not, or BMW's target would be those who discussed buying a new car. Once those discussions are tracked, marketing teams can signal technical or sales department accordingly.
Sale: Track Your Leads and Customers' Trends before Offering a Deal
It's essential to have information about a lead's interests before sales reps arrange a one-to-on meeting. Vtiger 7's twitter integration lets you prepare yourself beforehand. The lead's interests, contacts, discussion, trends, and other relevant data can be approached with this tool.
Following that information, lead's native environment as well as social and business concerns can be encompassed. Like gathering data about a lead interested in cars, their features and looks, and price range can be helpful for sales agents of BMW.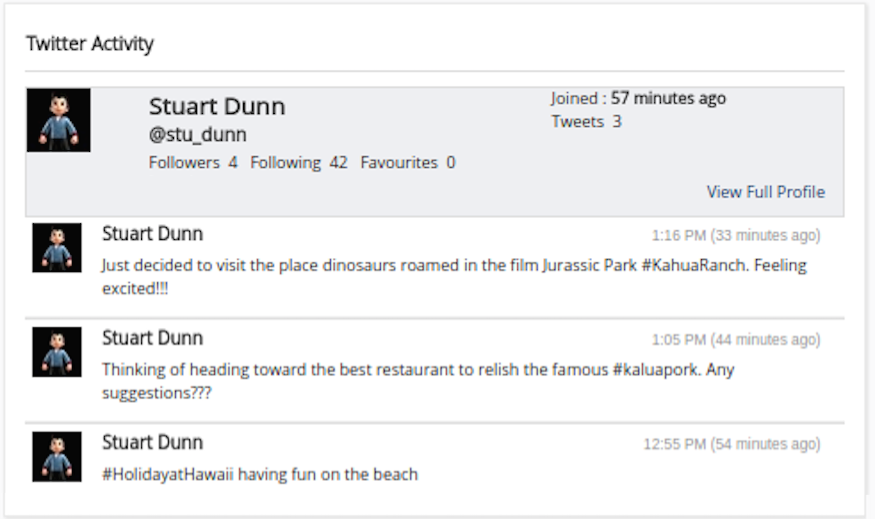 See what your leads and customers are talking about
Say a lead or contact's twitter handle is enabled in the database of Vtiger 7, now that contact's tweets are written to the latest Social History widget. So a sales person would never miss an opening while maximizing his/her chances of losing a deal in the first one-on-one meeting due to lack of knowledge and awareness.