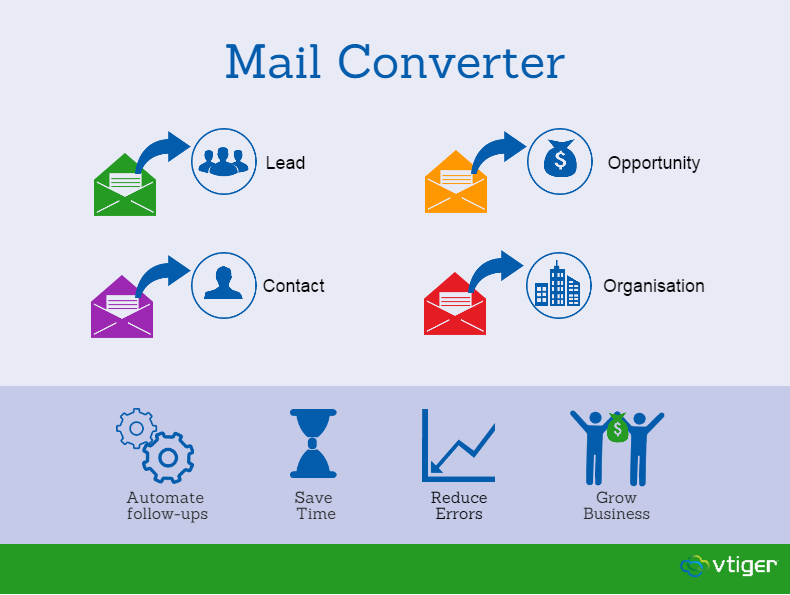 Since we are in the modern era, more and more regulatory requests are being confronted by our business groups now than any time in recent memory. Notwithstanding time spent offering, the normal deals delegate may now be solicited to spend upward from 10 hours every week on authoritative obligations that frequently, best case scenario in a roundabout way identify with genuine offering. Keeping up one client's records takes normal of 2 hours a week, or maybe more. This includes mail management, internal correspondence and team gatherings, and can prompt genuine interferences and misfortunes in proficiency because of ceaseless errand exchanging.
And it doesn't get any easier. Competition is getting tough as companies are deploying better and efficient strategies every day. Just enhancing workers' abilities is not enough nowadays. Something more is to be done. And Vtiger 7's Mail Converter is the solution.
Magic Trick Explained
The efficiency is being enhanced in successful firms by employing advance methods, like Vtiger 7, and Mail Converter of the CRM is among the toppers. It can decrease the required amount of time and attention by 50% at average. It works in best possible way by cutting of the need of human eye for email management, and including fields' data like lead, contact, and opportunity. Original emails are also attached with the inserted information.
And it's no rocket science, well at least the configuration part. You just have to program the CRM:
Specify inbox for every field
Then enter the order to be detected in the received data
And you are ready to free up your sales staff. Vtiger 7's this feature will automatically manage the records. Next time an email is received, it will be scanned according to your defined rules and the record will be updated along with the original copy of email.