If you are reading this article, chances are – you are a heavy VTiger user. As you probably know, there is no perfect CRM solution that can do everything your business needs, however VTiger can likely do 80% of the things that your business needs and to fulfill the rest – the best way is to add extensions or plugins.
We've put together a list of most commonly used VTiger Extensions. It includes some of our favorites such as smart search, real time duplicate check, enhanced views and many more that really make VTiger more intuitive and user friendly CRM.
Emails are great, but they tend to get lost or buried in the inbox, so we came up with a chat plugin for VTiger. It allows you to create channels, private & group chats. It's very easy to use – slides out/in without closing your active page. Chats can also be linked to any record in the CRM and the history can be viewed from the linked record.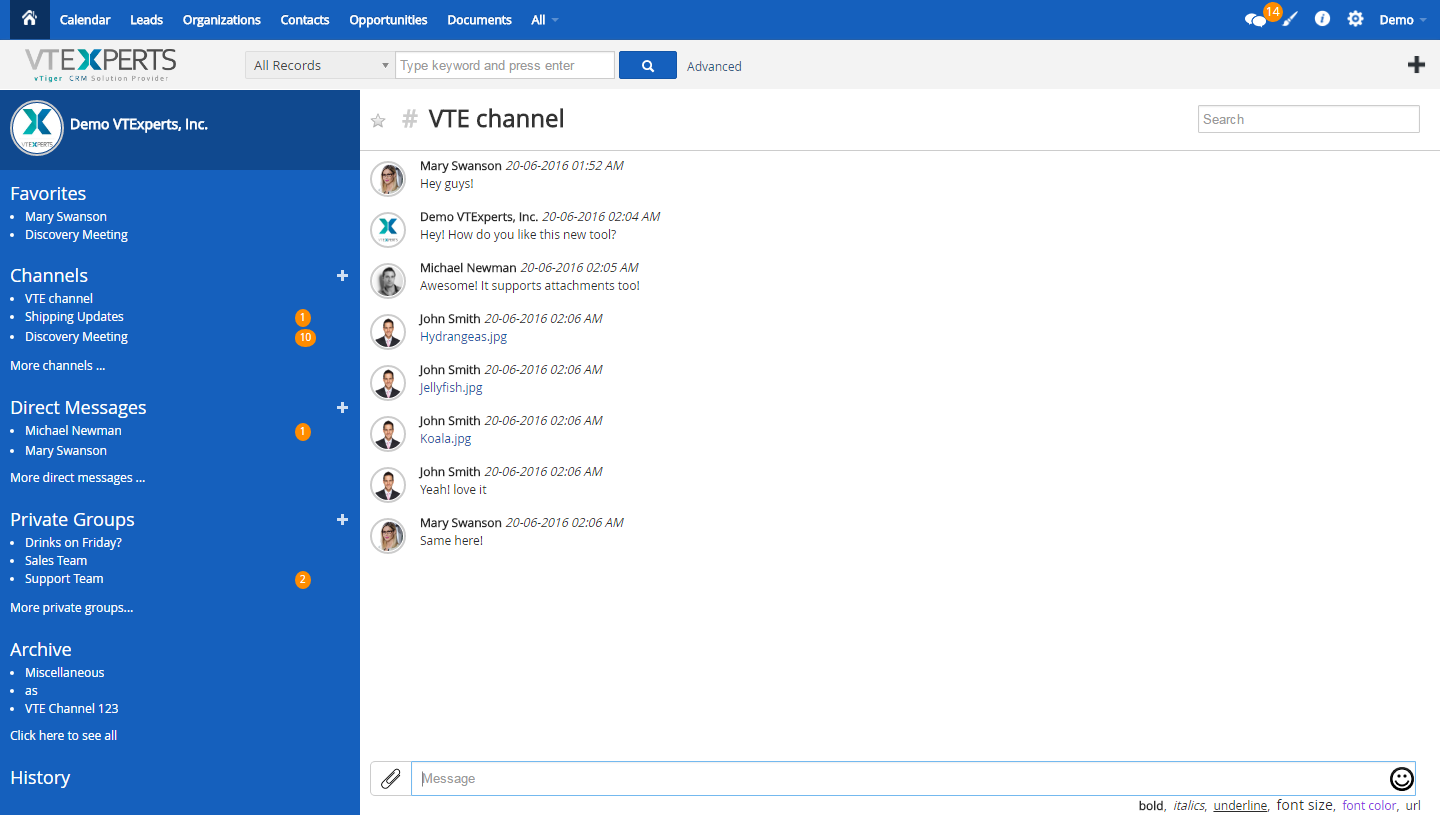 VTiger search is very limited and only searches the name. It's a tedious process to create a filter or specify the fields to search in. Global Search plugin comes pre-configured and searches entire database in a flash.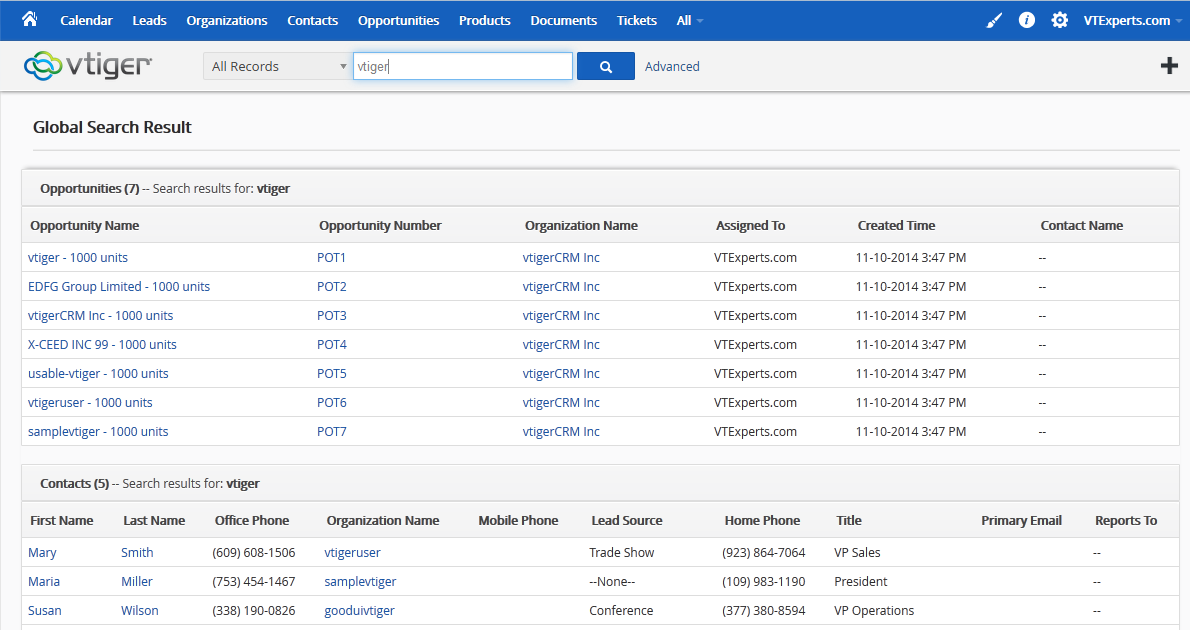 Entering addresses can be challenging – unique street names, numbers, etc… With Google Address Lookup extension – all you have to do is start typing the address will be prefilled automatically using Google address database.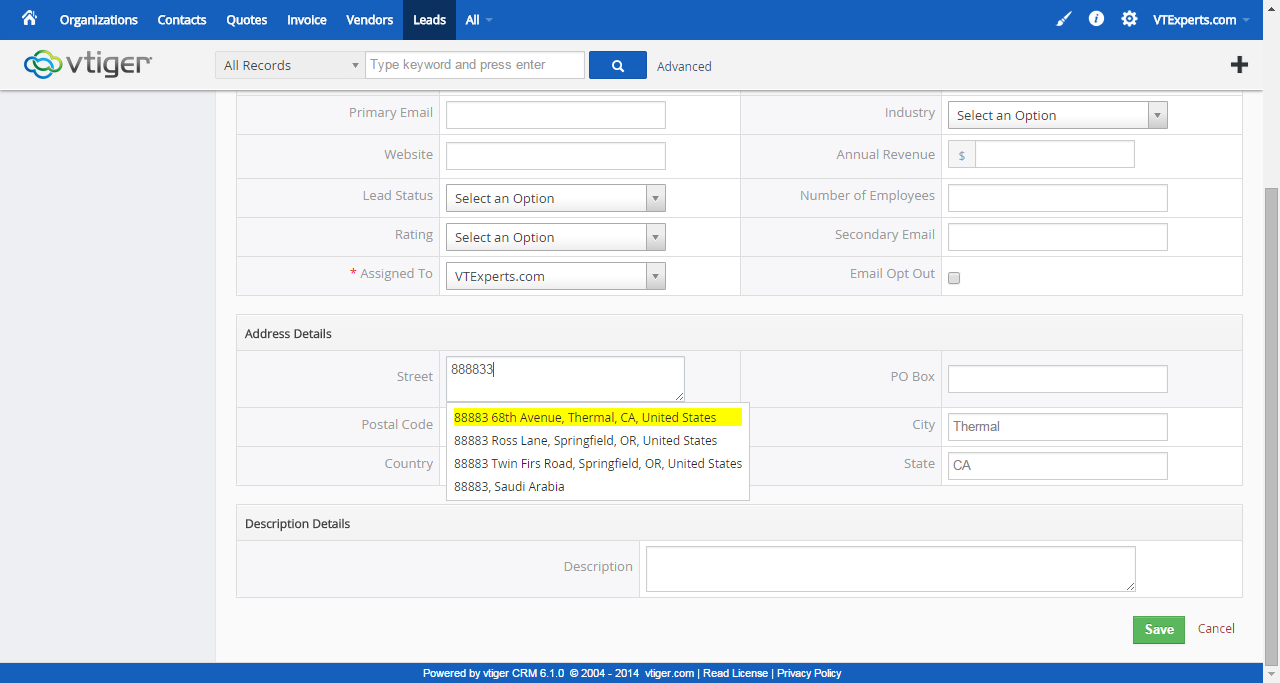 Due to the lack of effort while creating the record, we usually end up with a lot of duplicate contacts/leads. Duplicate Check & Merge plugin does all the work for you, meaning that if you are entering the record and the phone/email already exists – it will show a notification with a link to the record that already exists. In addition, it detects if the record that you opened is a duplicate and displays an icon next to potential duplicate field.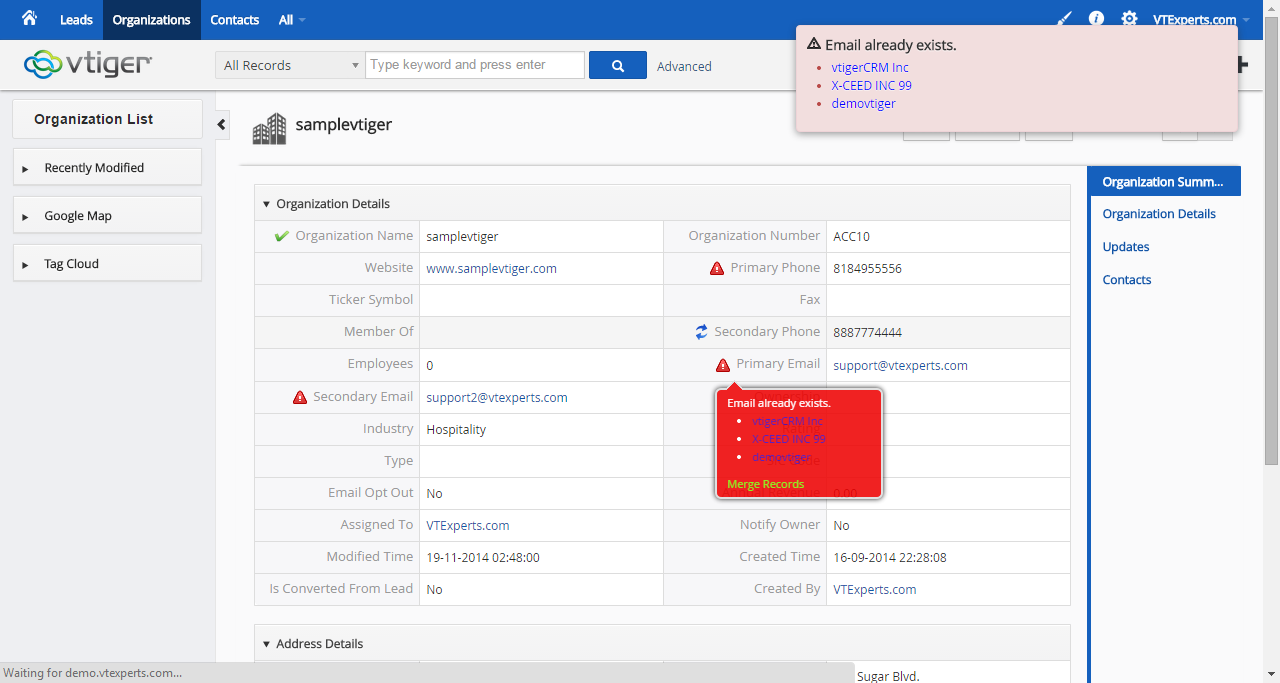 Updating records can be time consuming and having to click into each record, update the field and go back to the list – can become a nightmare. Our Related Listview Edits plugin allows users to edit fields from the listview or filter. This makes record editing a breeze!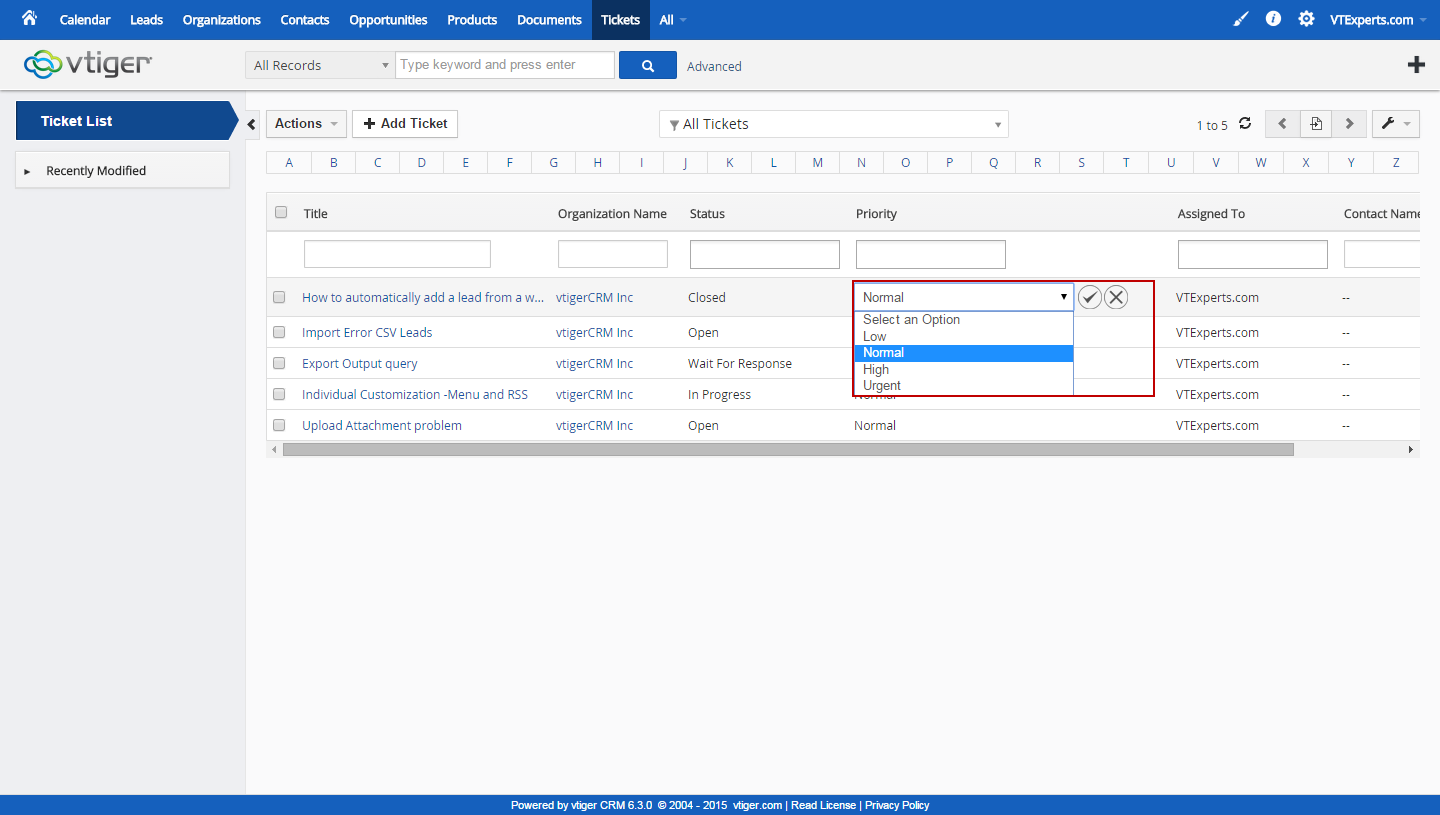 Everyone loves summary view – it's clean and has just the right information. The only downside is – that by default, you can not add new widgets, however – you can with Summary Widgets plugin! It allows you to add unlimited number of widgets and change the layout of existing ones.
This plugin is a huge help for people spending a lot of time on the CRM. It stars(1-5) records and displays them in a popup which is accessible from the menu. The popup is slide in/out so it doesn't close your current window. Another nice feature is that you can add your filters there as well so they accessible from that popup.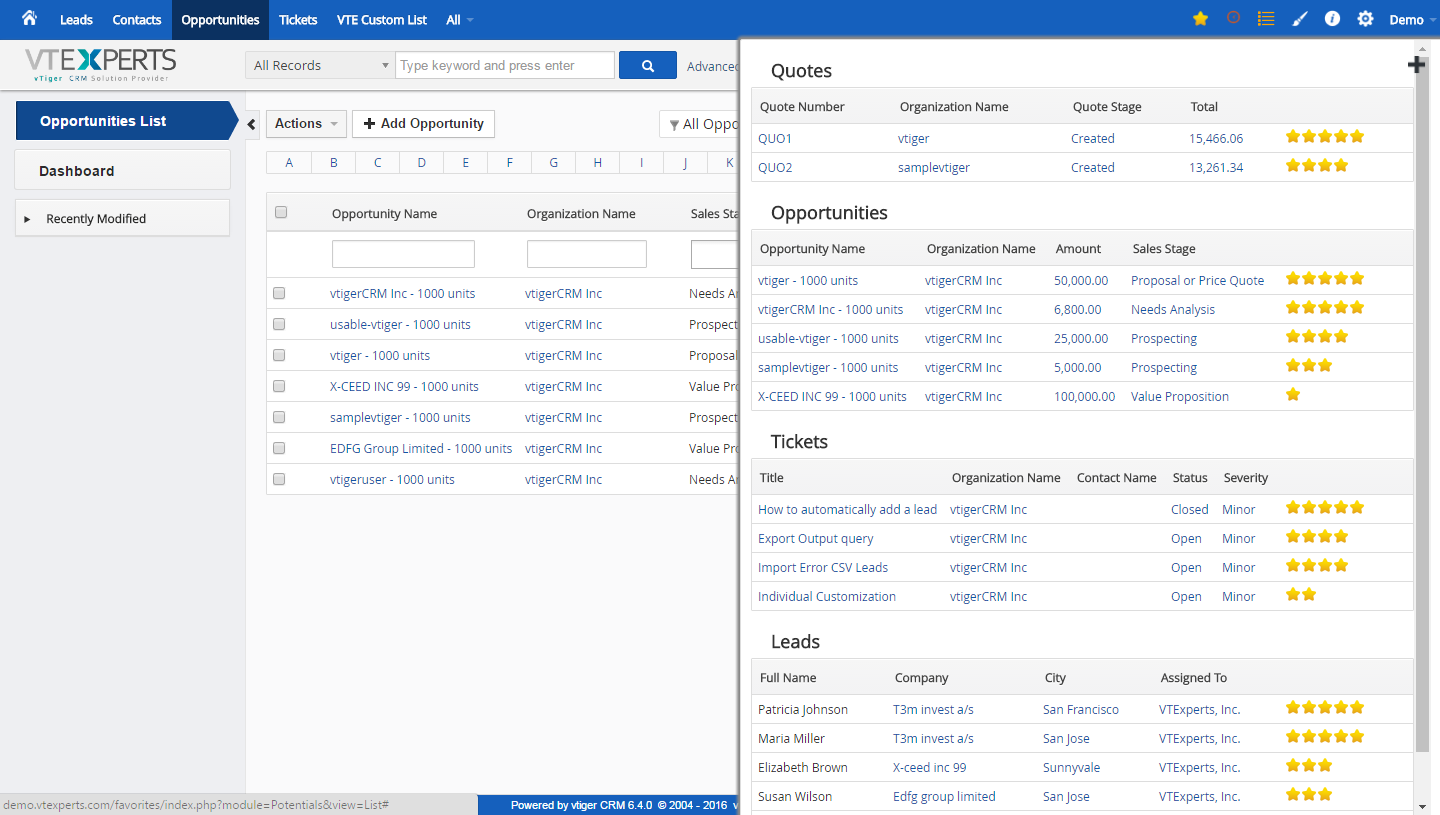 One of the most commonly used features is coloring your lists based on conditions. E.g you can create a color for all tickets that are open or have been open for more than 48 hours. Same logic applies to all VTiger modules!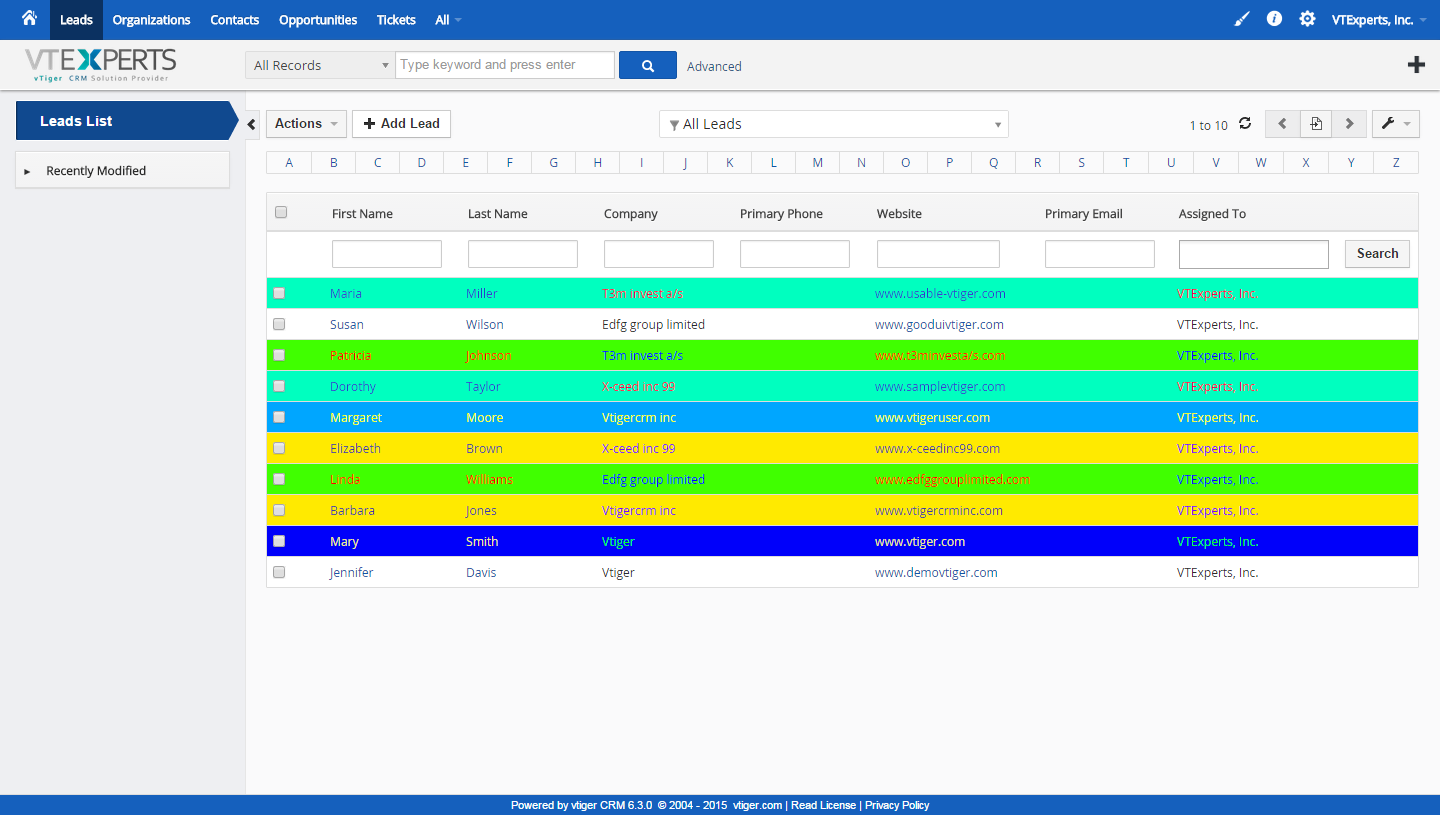 As you design CRM, it is likely that you will need ability to conditionalize some of the fields. Good example is, say you have a "Lead Source" and one of the picklist values is "Other", with this extension – you can say "If Lead Source is Other – then show field "Lead Source Details"". Conditional Layouts plugin basically allows you to show, hide or make fields mandatory based on other field values.
Unlike the #9 plugin, which only allows you to show/hide individual fields – the Dynamic Blocks plugin allows you to hide or show the entire block. Say, if you have a picklist field "Number of Dependents" and the values are 1,2,3,4,5 – you select 4 and that would trigger 4 blocks to show up with individual dependent fields.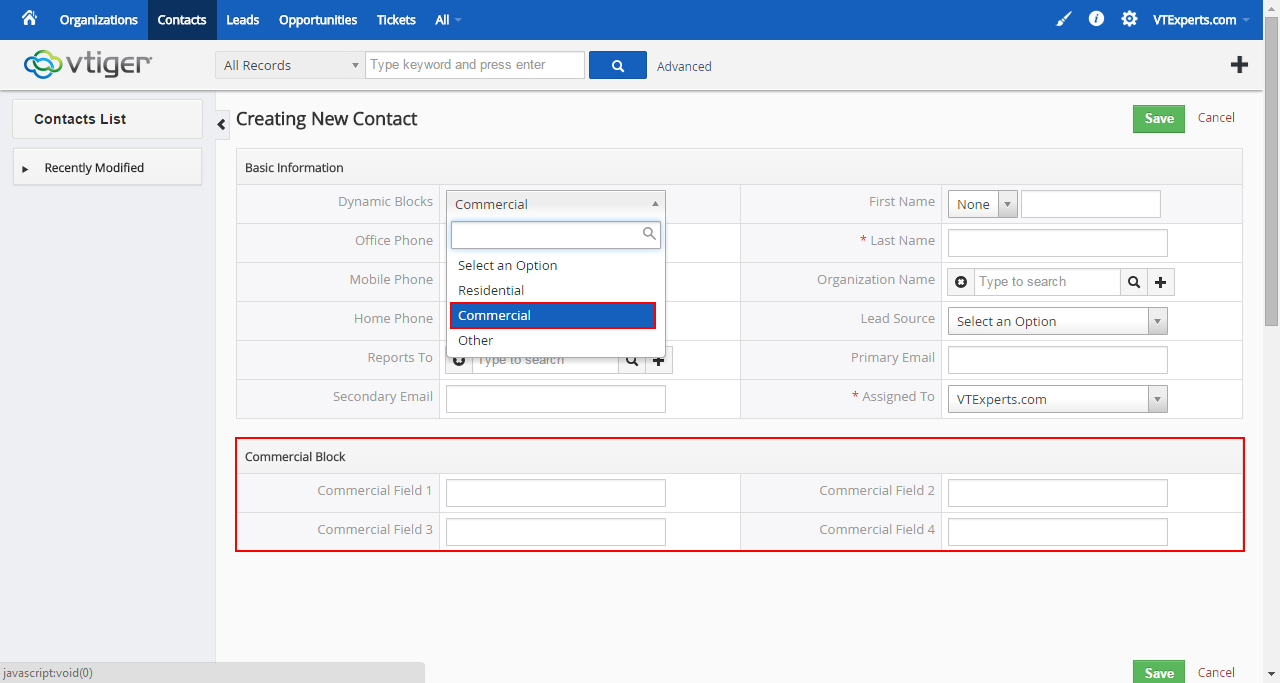 As every open source software it has it's own pros and cons. One of the is that you are responsible for CRM the security and well being. That being said – you want to keep an eye on unauthorized logins, enforce strong passwords and restrict user to login from one place at the time.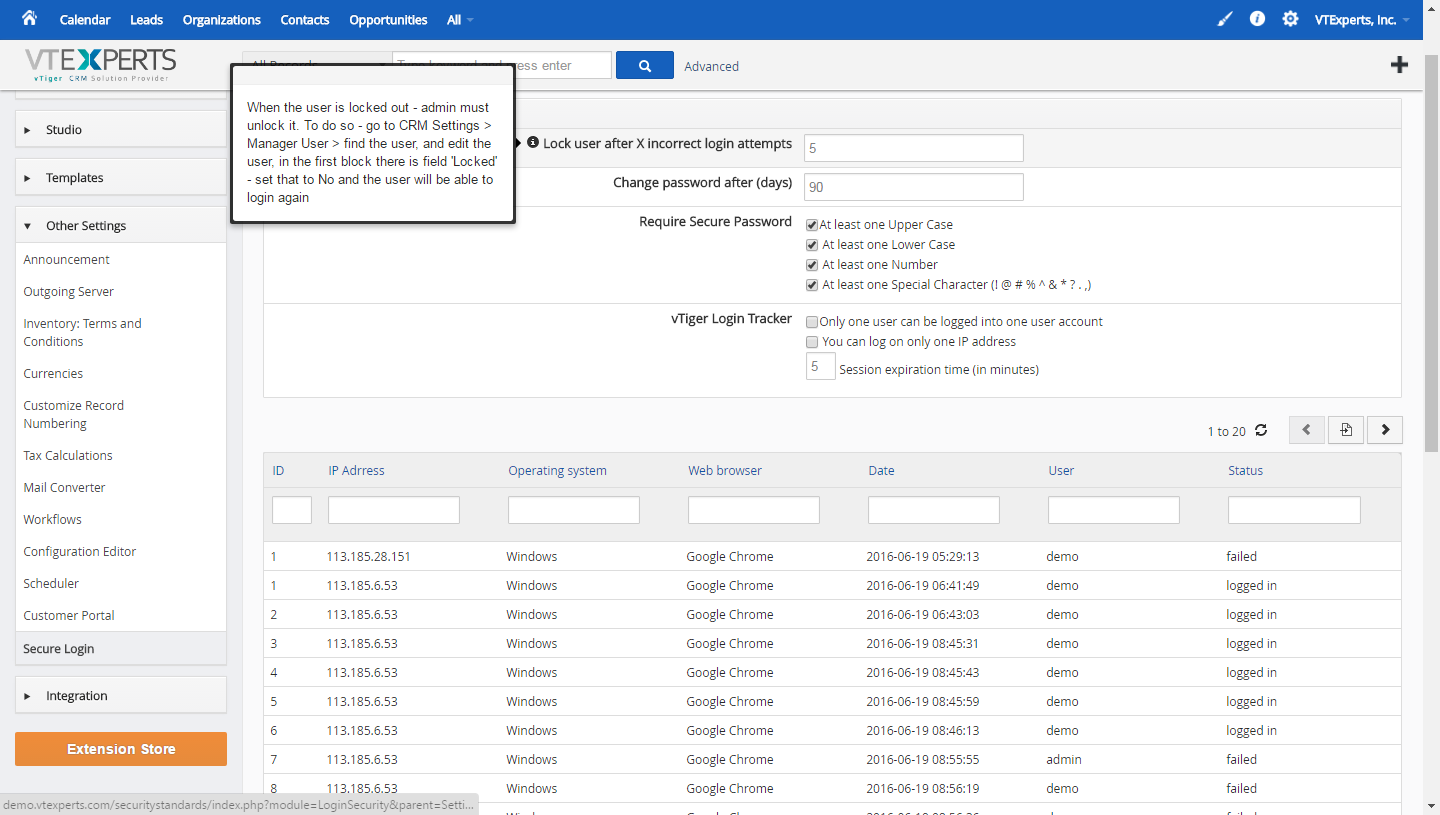 Every CRM user has their own way of setting reminders/notifications, either it would be via email, calendar or some other method that works for them. This Notifcation/Reminder plugin makes it very easy to configure and schedule notifications/reminders and see as they popup through out the day.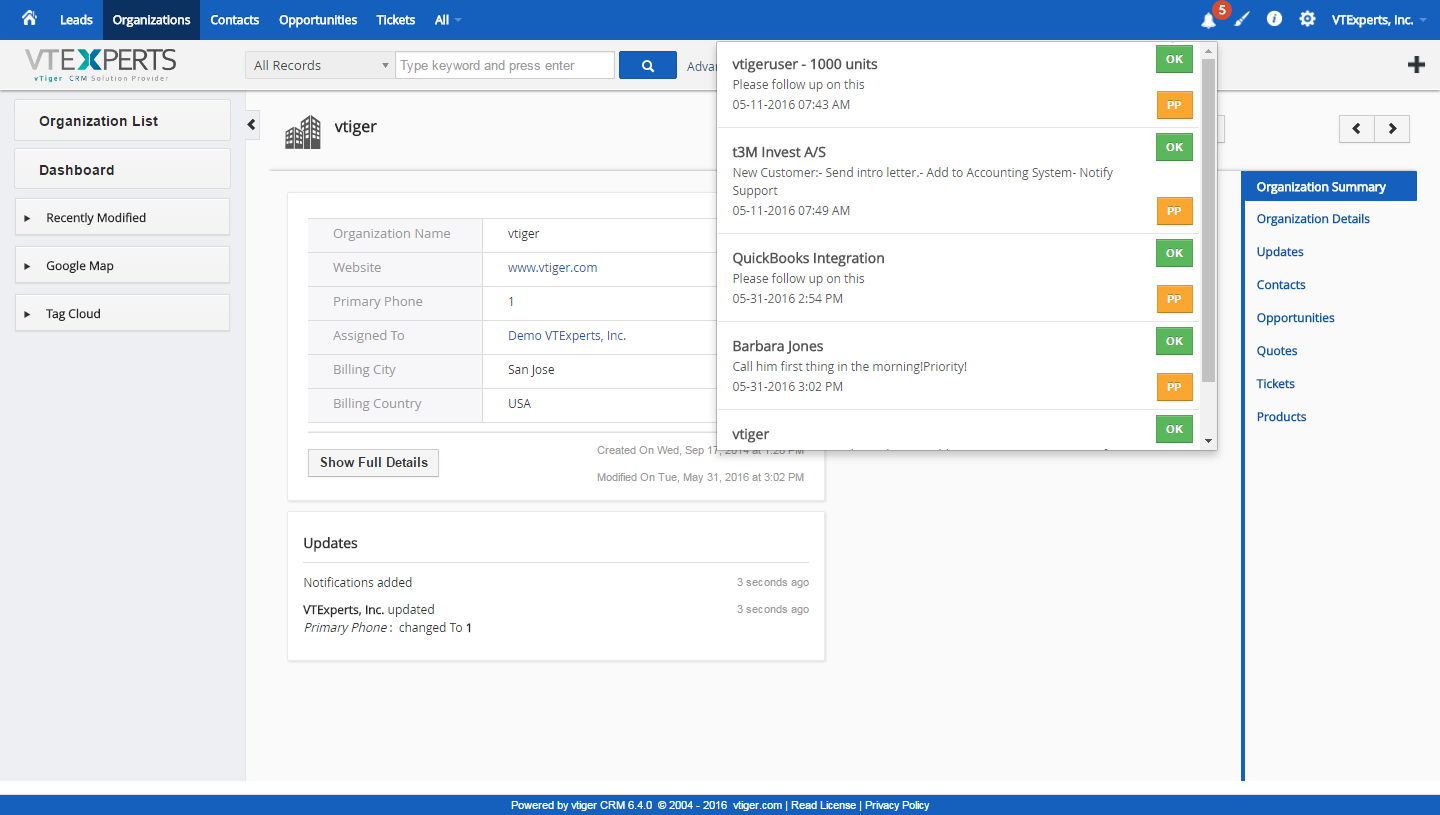 Correct data entry is critical for every business and having the data input incorrectly is just not an option. Field Tooltip Manager is a VTiger extension that allows you to create custom tooltips for any field. Tooltip can be small popup and an elaborate modal popup which supports rich text.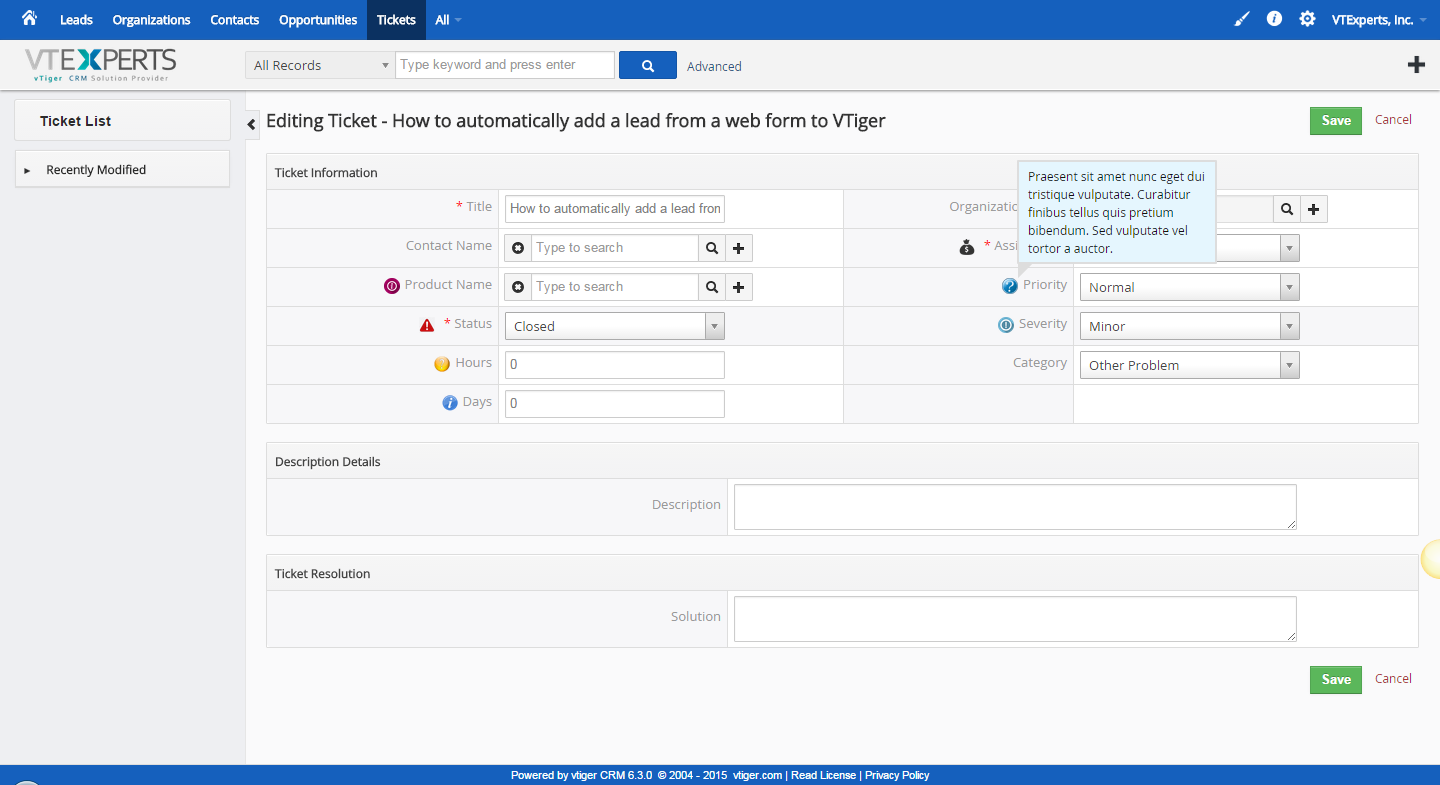 If your company is sending a lot of emails from VTiger, it's likely that some of the emails go to spam, because when email goes out – it uses one email server for all the servers and that is usually a red flag for spam filters. Individual Outgoing Email Server extension allows each user to configure their own email account an avoid potential risk of emails going to spam.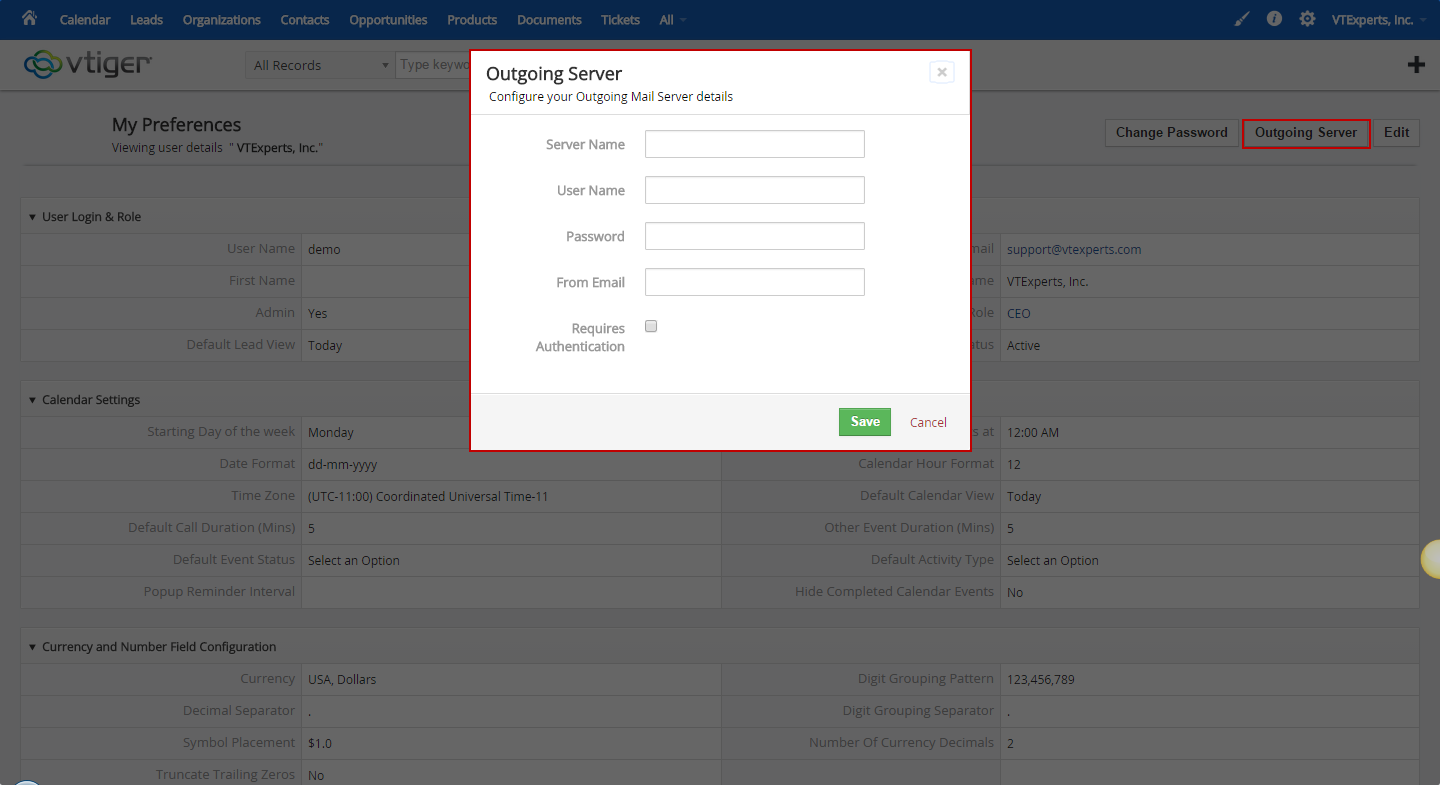 A mission critical plugin for companies that need to assign records to multiple people or groups. Multi User Assignment plugin allows records to be assigned to multiple people, while enforcing permissions setup within the company.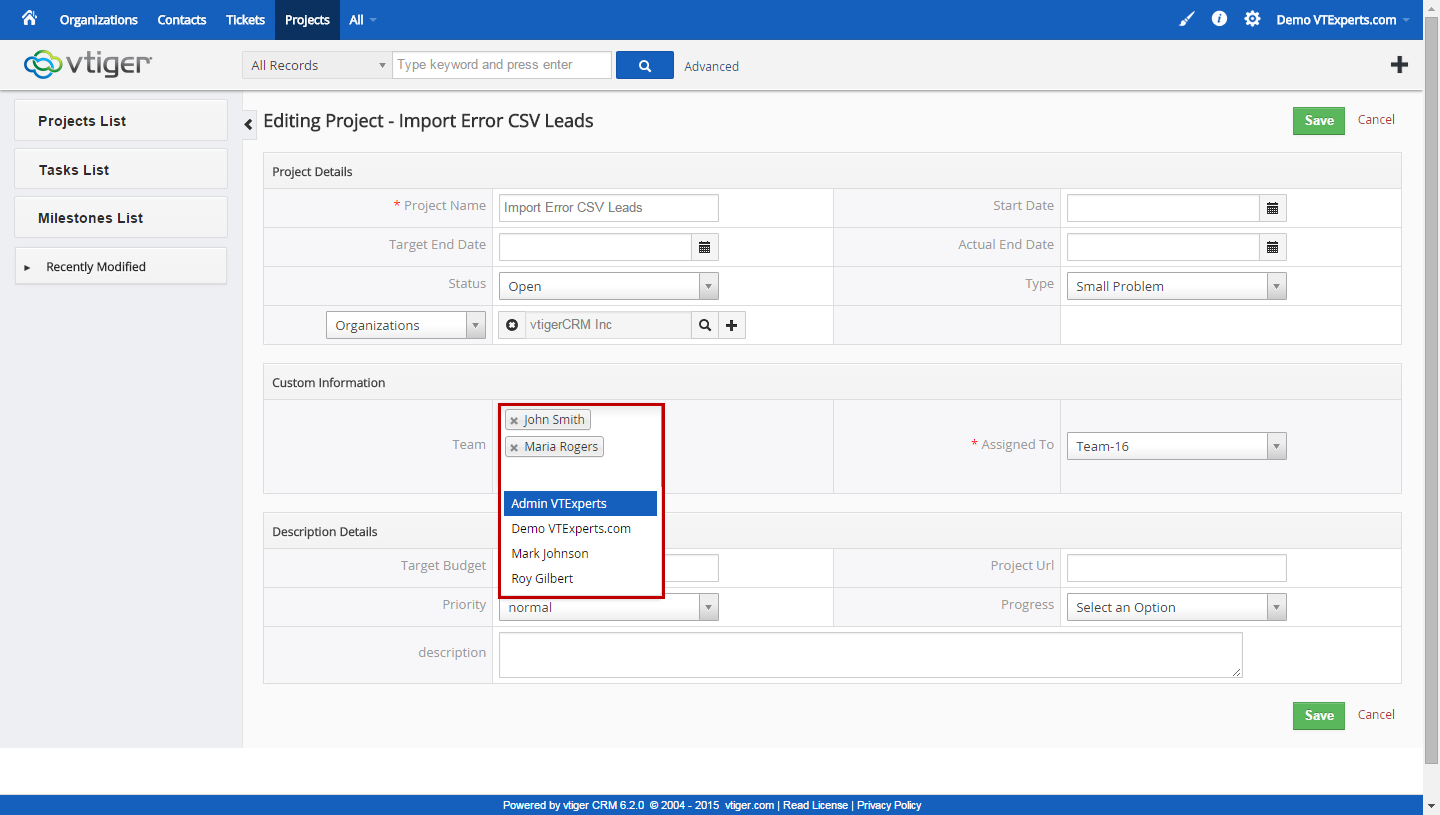 Uploading documents is a tedious process – you first have to click to add, name the document, attach the file and finally save – that easily takes 30 seconds or more. Our Document/File Manager allows user to drag and drop file anywhere on the screen and it will auto-magically create a document record with all the information prefilled. Takes 2 seconds compared to 30!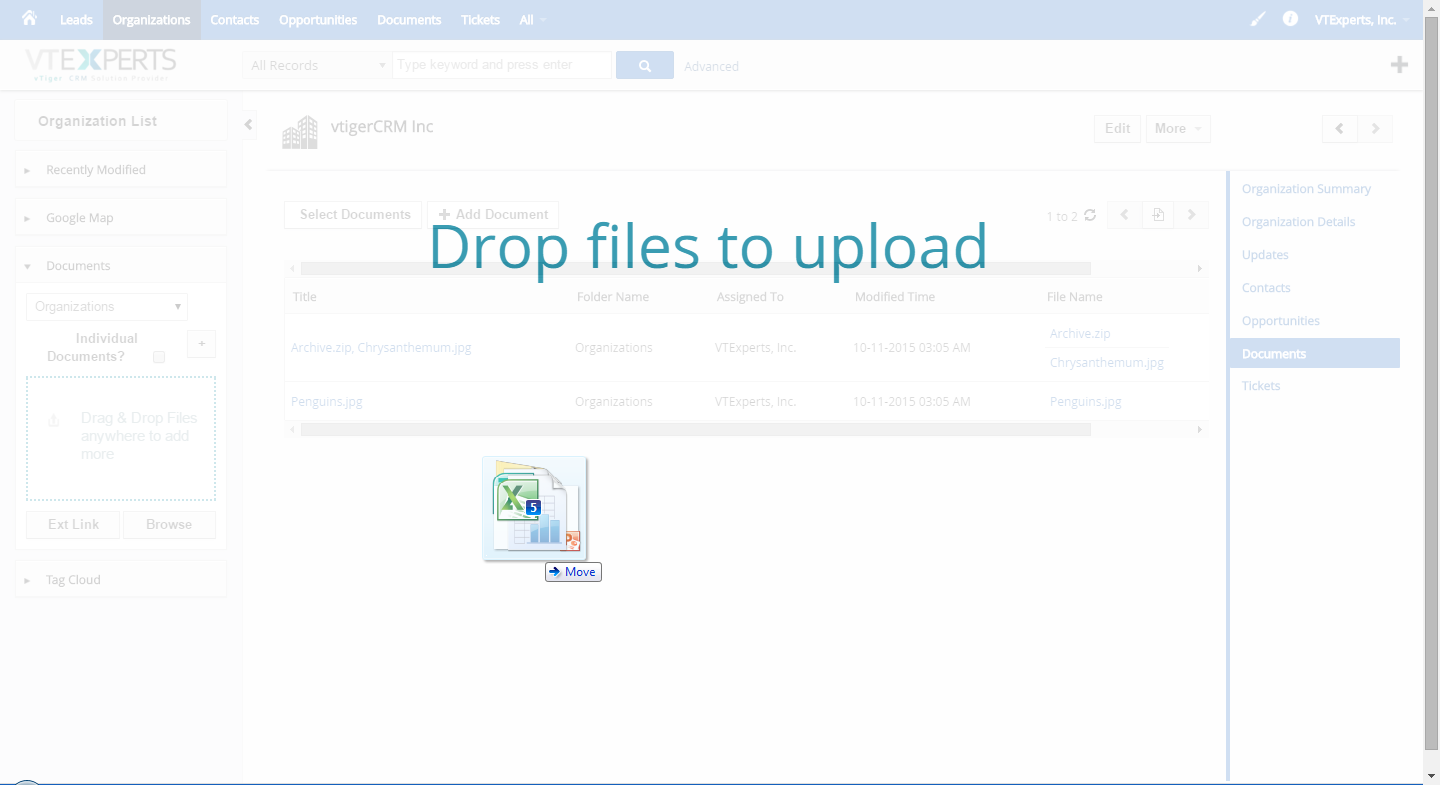 If you spend a lot of time going through calendar activities – this might be a major time saver. Calendar Popup/Preview plugin transforms regular event/activity view into powerful popup where you can update event details, related contact/opportunity information on the fly.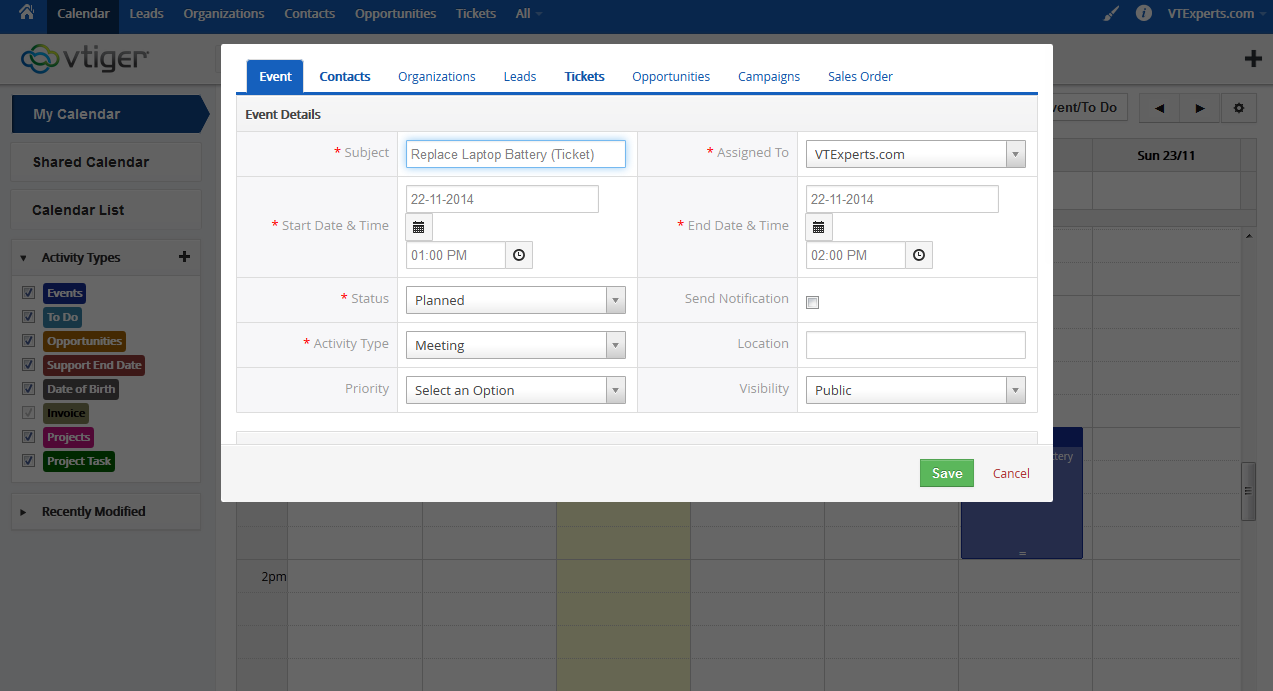 Kanban view is a very common tool used in the CRM world, it basically converts your lists into cards that can be grouped by columns and moved around by dragging and dropping. It's very helpful to group tickets/opportunities by status or technician/sales rep. Kanban View is easy to use and requires no configuration.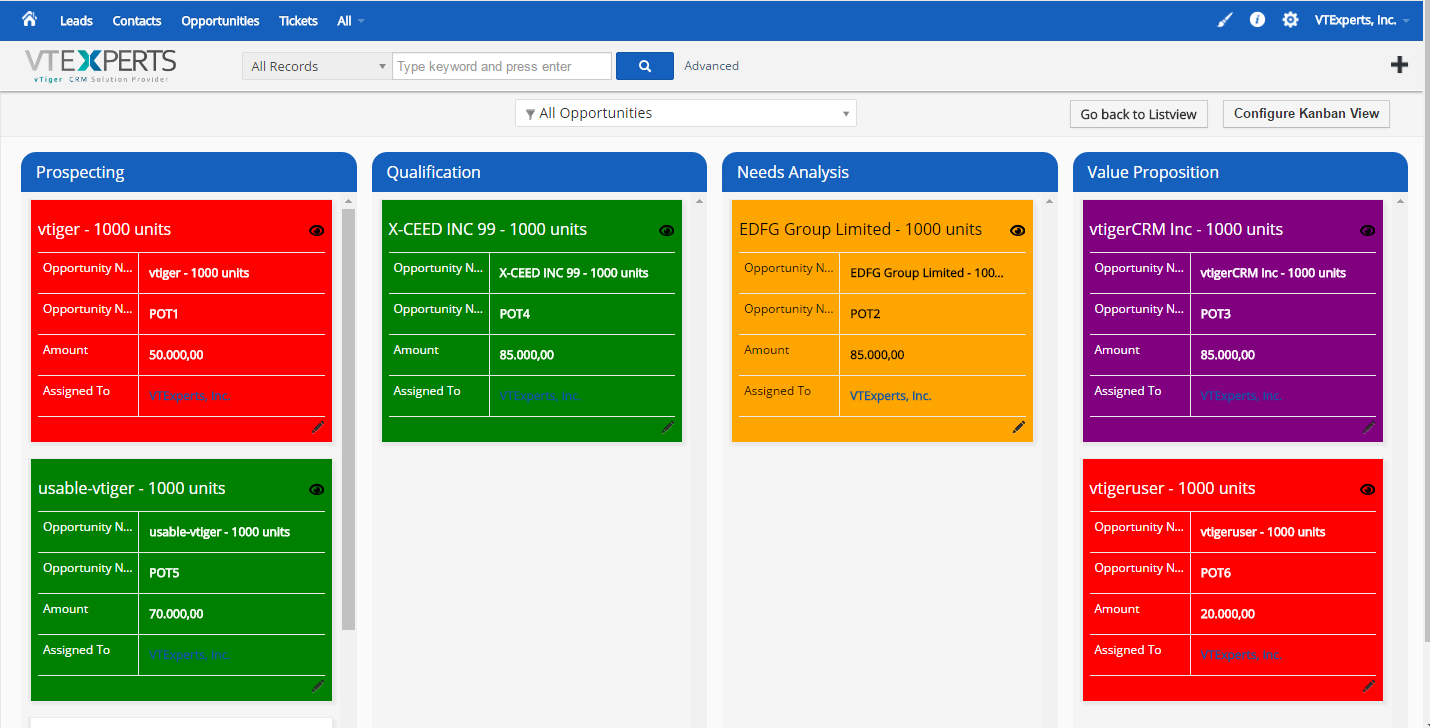 Every time you open a record – you have to click on the related list and see if there are any related records. With Related Record Count plugin – you see that right away. In addition, the plugin is capable of configuring different types of counts, e.g show me Open Tickets / Closed Tickets (2 / 10).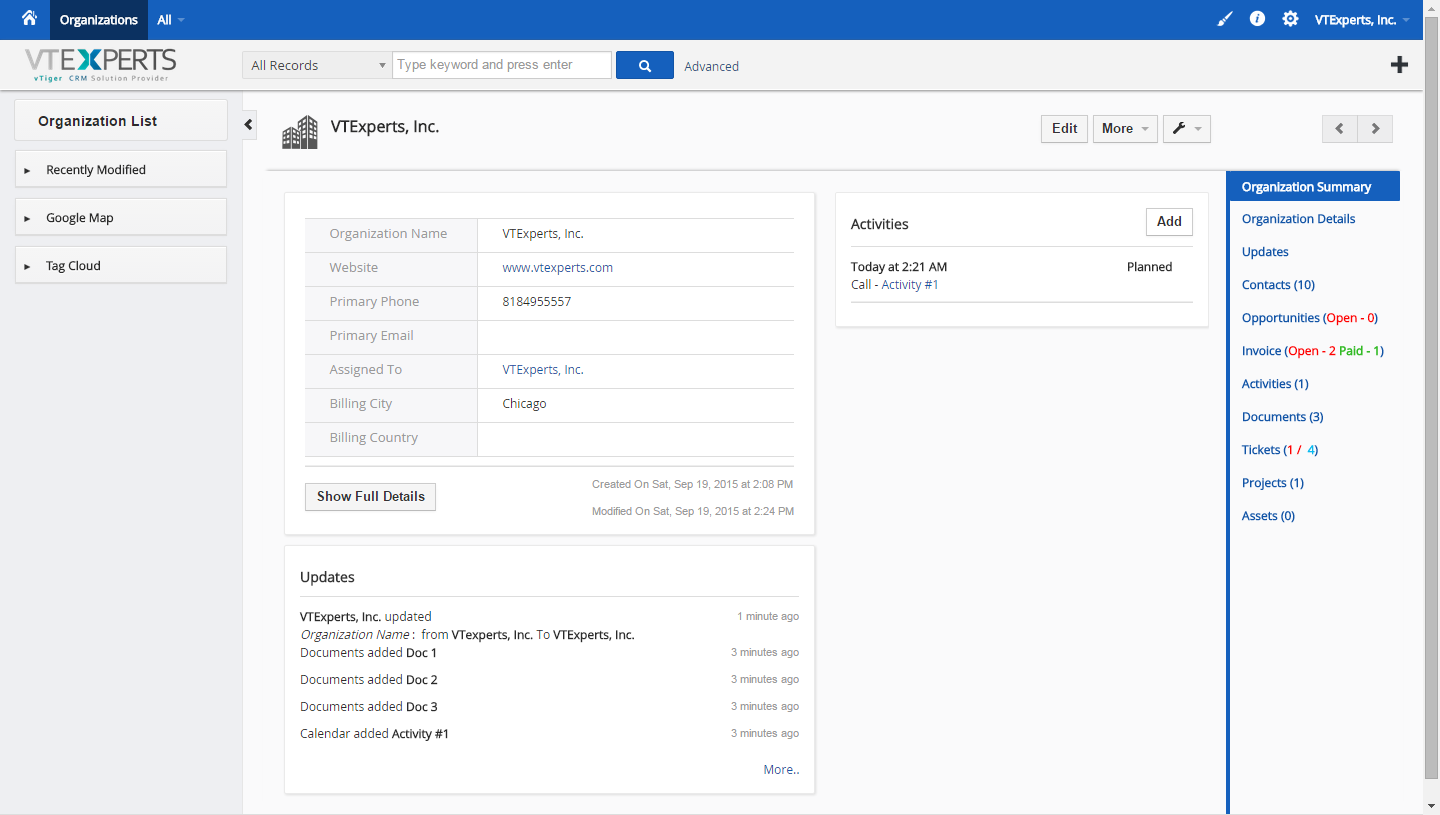 Add a personal touch to your CRM by customizing the login page. It makes a huge difference when the staff sees company specific login versus VTiger logo + advertisements. Custom Login Page extension makes it super easy to brand the page – all you do is select the images, put in applicable text, footer, header and that's it!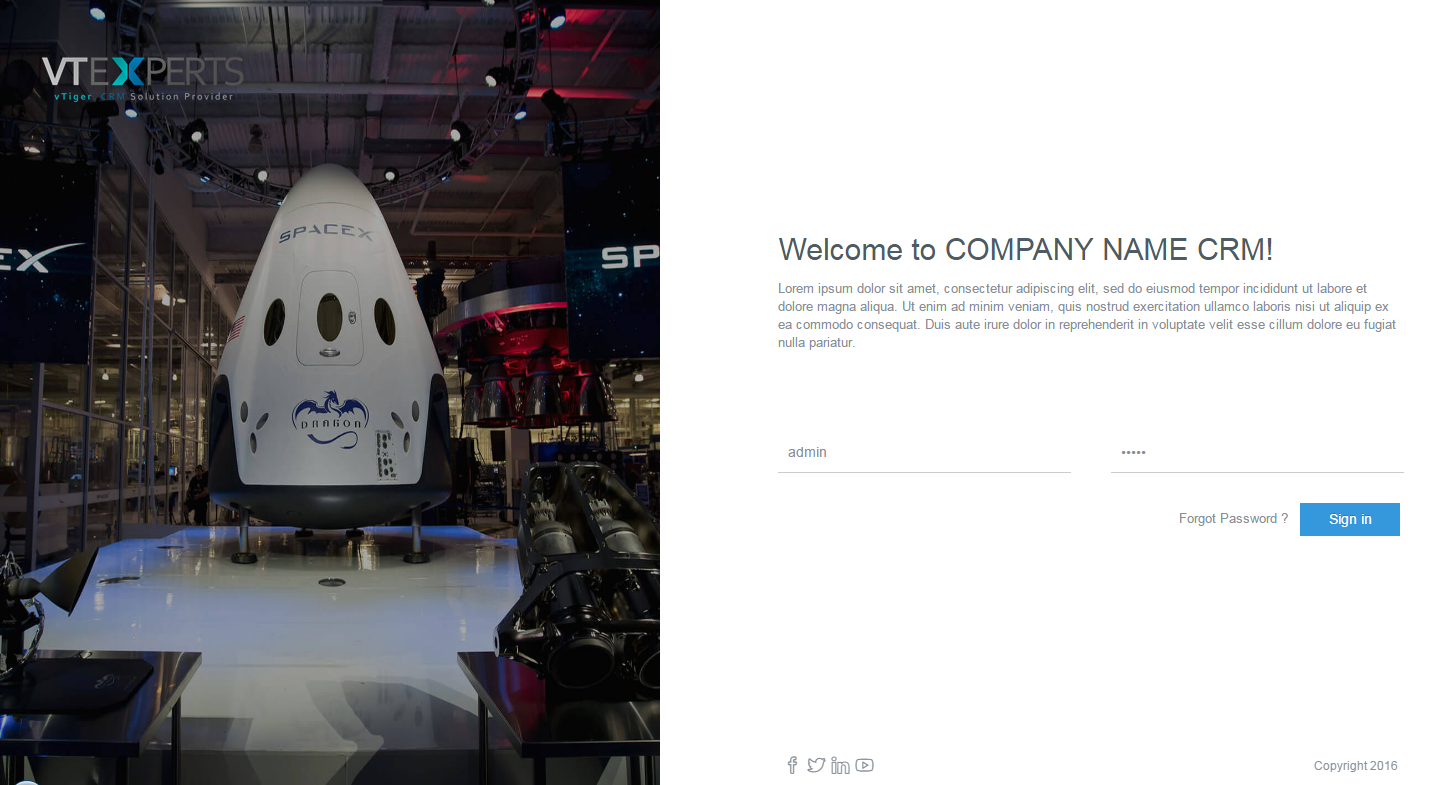 This is a very powerful extension, most people don't take the time to watch the video or read the description, however it can save you hours a week if used right. Related Blocks & Lists is a plugin that allows to add related records to primary record. E.g if I had an organization – I can then see all the related contacts + add/update contacts when editing or viewing the organization. It's essentially a "Summary Widget" for detail/edit view.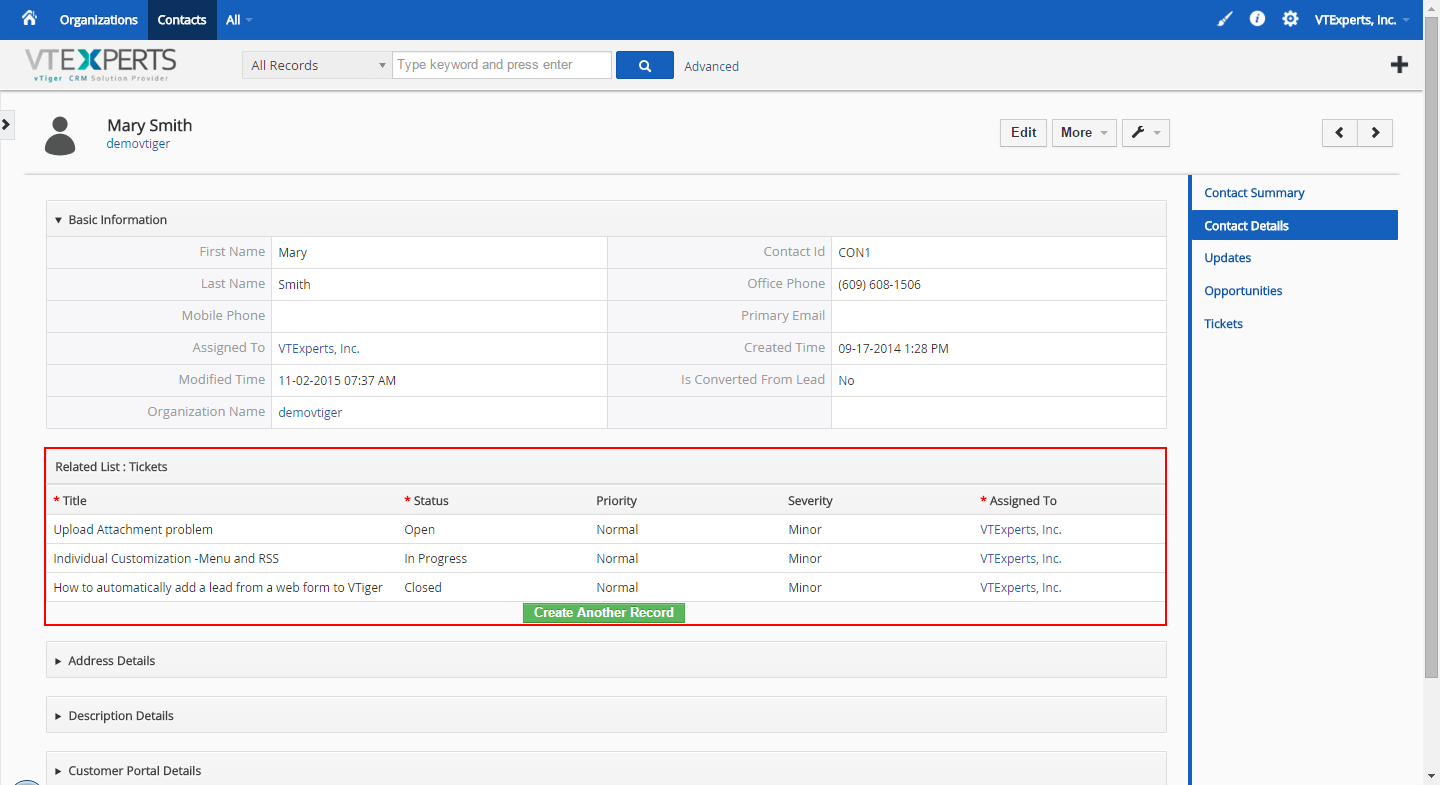 If you are utilizing VTiger any of the mentioned modules – you are likely going to like this plugin. Item Details Customizer allows you to add custom columns to pricing table. Usually people just store information such was warranty date, license or any other information specific to the product or service in the description field – but that's not the right way to do it. This plugin helps to keep the database clean and accurate.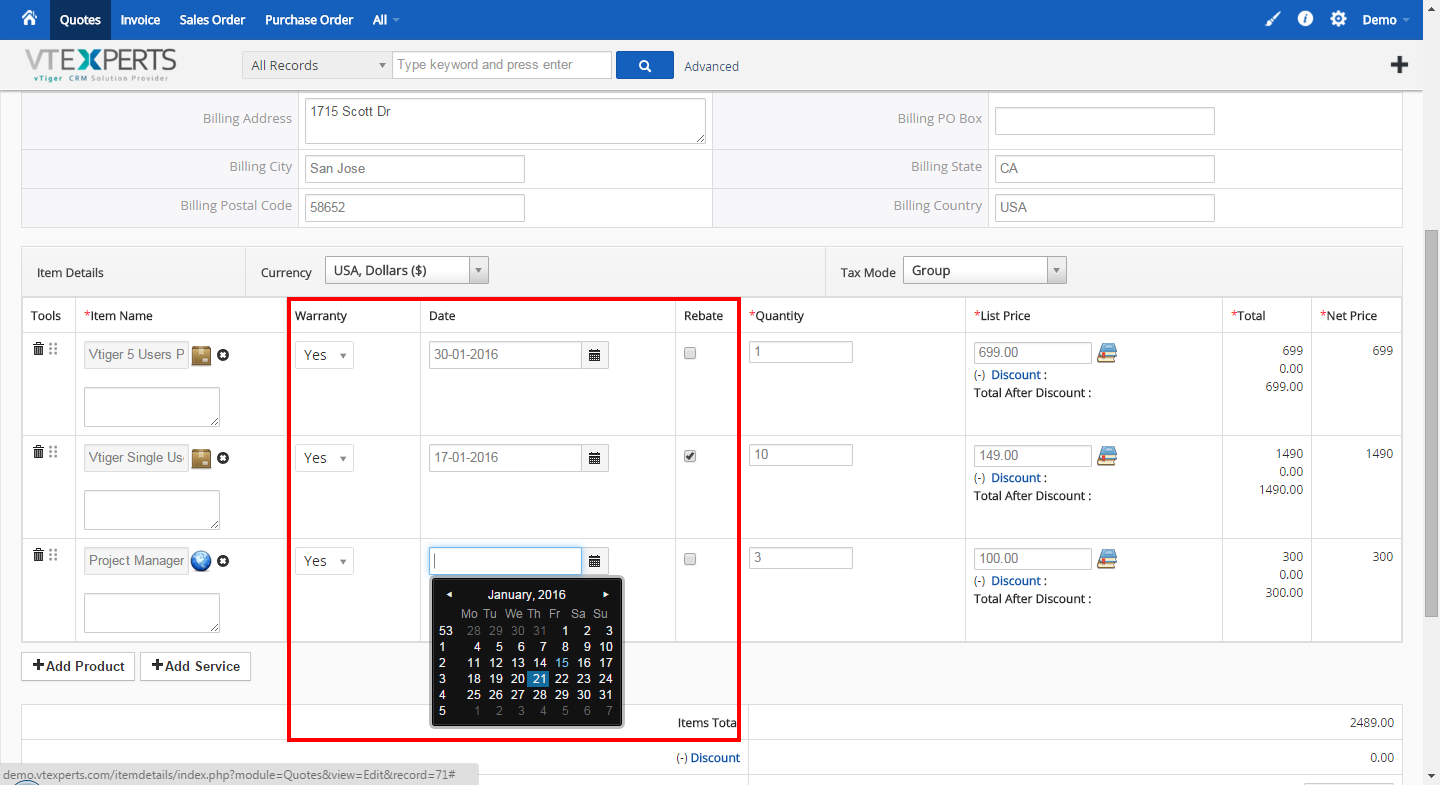 Having to download each document so you can see if that's what you are looking for can be a tedious process. Document Preview plugin basically allows you to click an icon and open/preview the document on the browser so you don't have to download it locally and open it. It supports all common files formats such .doc, .xls, .txt, .jpg, etc..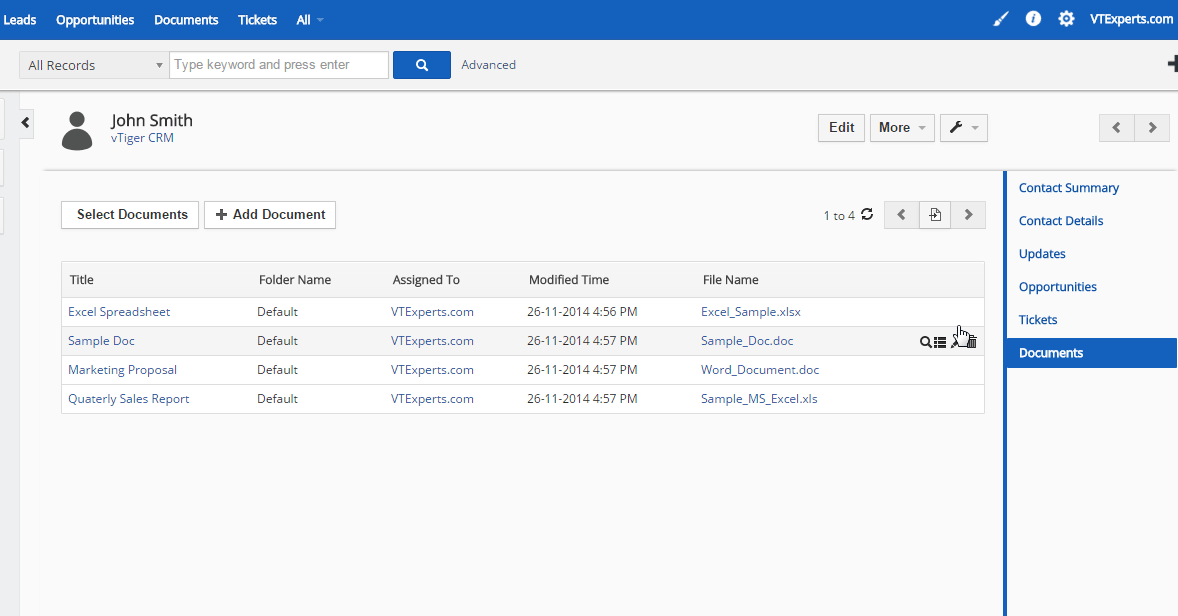 You probably find yourself sending same emails or scheduling activities over and over again. What if you could create an event template that would schedule a follow up call 2/7/14 after the demo and create those calls within one click? Macros extension allows you to do just that. Create your templates for events/emails/tickets/etc… and next time you need that scheduled – it will be one click away.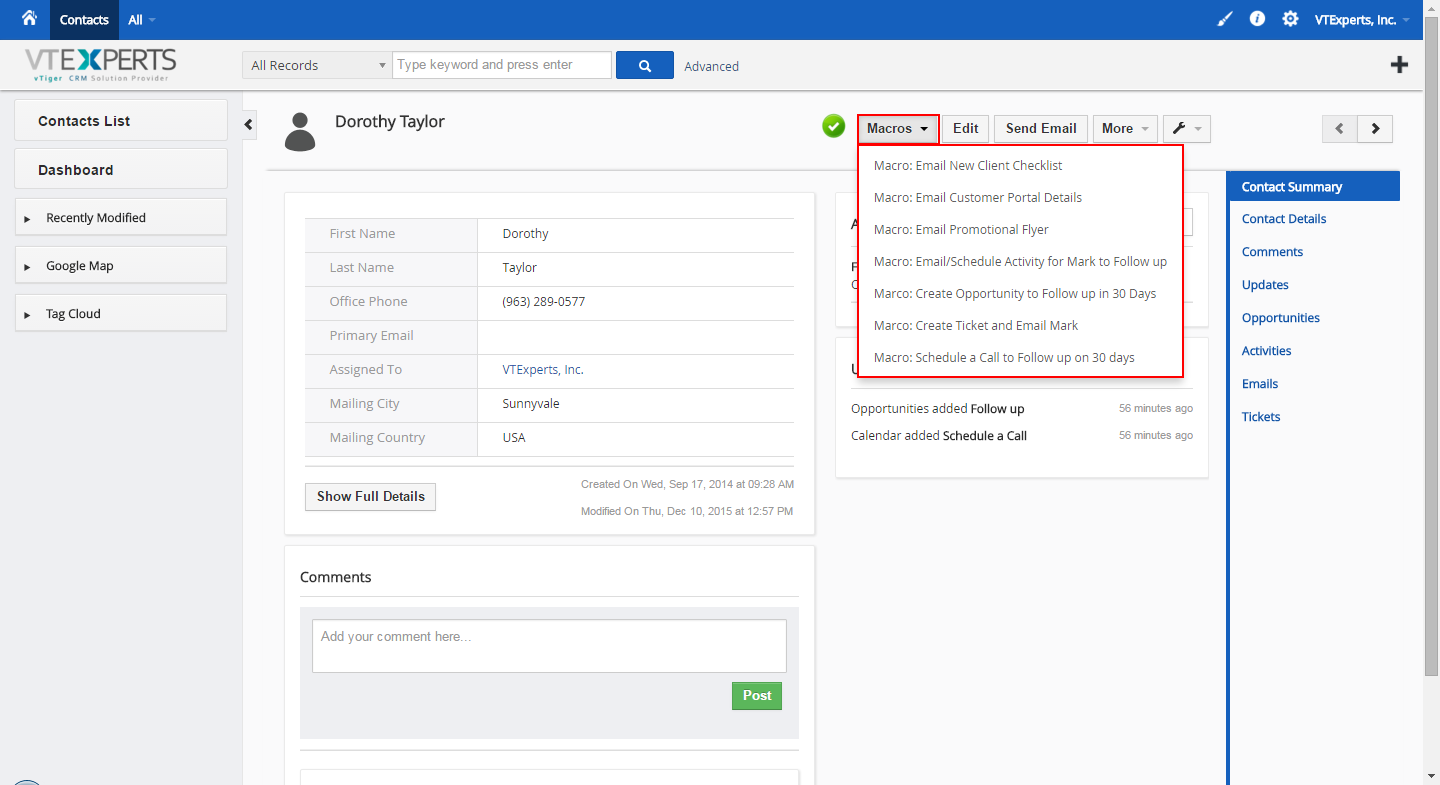 VTiger has ability to do mathematical calculations using workflows, however the calculation is executed after you click as and you can only see the result once the record has been saved. Our Real Time Field Formulas plugin allows you to create identical formulas, however it executes the calculations as soon as you start typing and you can see the outcome right away.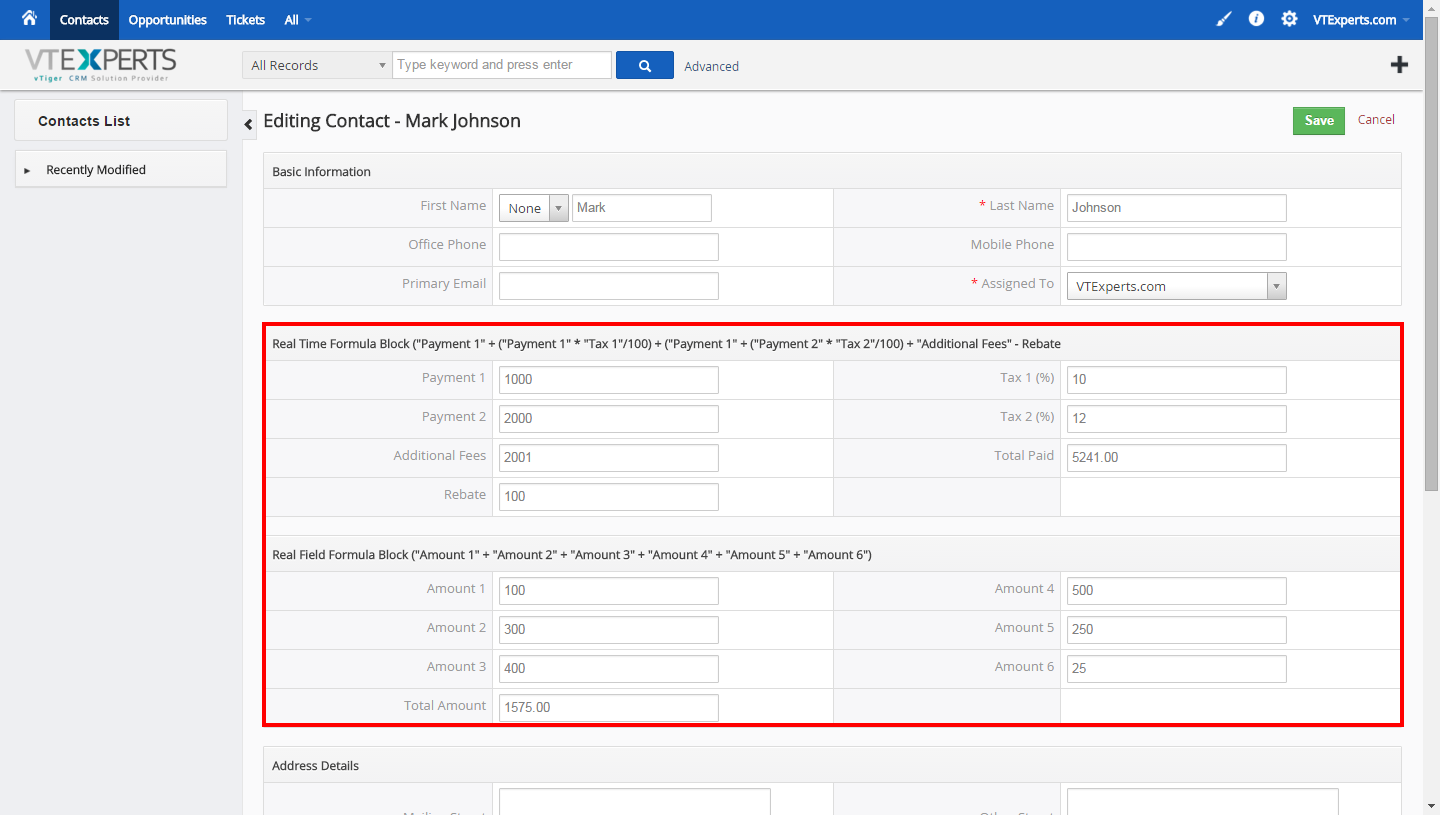 If you have any questions regarding any of our extensions – feel free to contact us via chat or email, we usually respond to any questions within 24-48 hours.
Thanks!