Are you missing updates on a crucial deal just because there is no proper sales visibility? Are there any deals stuck in the sales pipe and you are not sure about the cause? Your sales pipe needs to be healthy in order to keep the flow streamline and hurdle-less. But with the classic systems, keeping tabs on deals in sales pipe is not so easy as pie. Moreover, there are several developmental stages of a deal that are needed to be observed.
To ensure the perfect vision over the sales pipe and the health of it, Vtiger has developed and released several tools, all of their own kind, latest of those was Smart Reminders. Now, Vtiger 7 is pleased to be on the spot to announce yet another gizmo which doesn't only offer X-ray vision of the sales pipeline, but also keep the sales reps updated and allow them to take suitable actions according to the condition of the sale.
Vtiger 7's Kanban View of the Sales Pipeline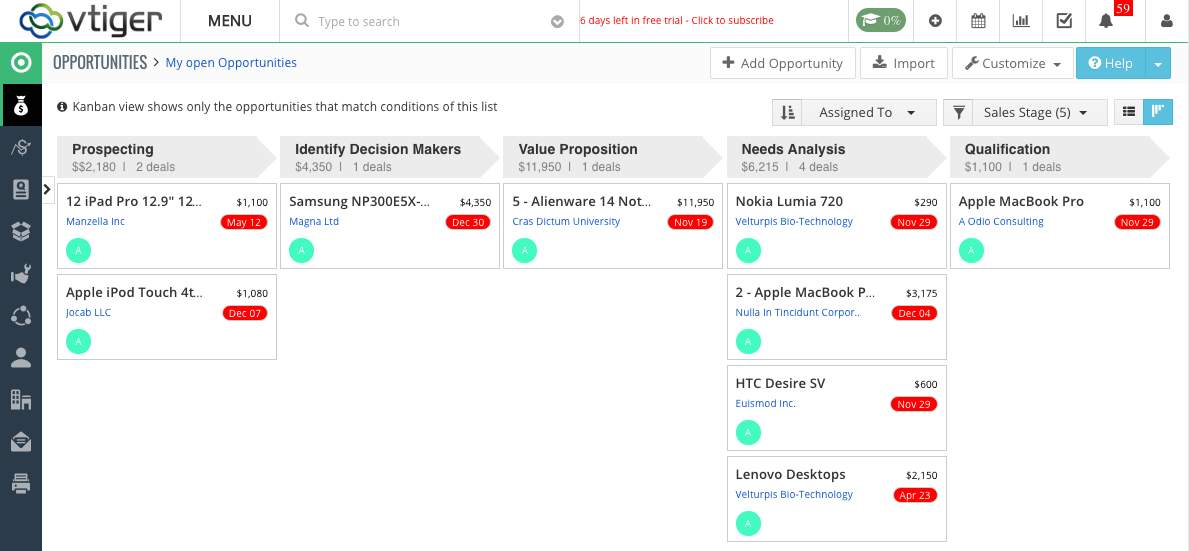 The Kanban view is one of its kind and the information about the sales pipeline it provides is thorough. It shows:
Active deals broken out by sales stage
Detailed view of important information consisting of deal's value, assigned sales representative, potential closure date of a deal, and the next activity
Deals that require care and consideration
Deals that are needed to be sped up
And those that are ready for the further step.
In the Kanban view of Vtiger 7, there are several filters and views that help you sort the deals according to your requirements. The deals can be sorted on the basis of expected close dates, last update time, or assigned salesperson. In the detailed view of a deal after selection, extra information can be inserted for future reference. The detailed view can be opened by simply clicking on the deal title in detail view. Simplest drag and drop protocol is used to upgrade a deal to next stage. If this is not the coolest tool to manage the sales pipeline, I wonder which one is.
You can always provide us with your reviews and suggestions to improve, as we are always active for the betterment of the CRM as well as the services we provide to our users.