Every business has different set of demands according to the nature of the business; one cannot think that the requirements of two businesses are 100% identical. So the Vtiger 7 CRM brings you a feature using which you can create a basic module depending on the requirement of your businesses and the nature of your dealings. Not only you can create a custom module but also you can design and add custom blocks and fields to your module. You can also develop a relationship of one custom module with the others.
Note: Module builder can be availed in Sales Professional, Support Professional, and Ultimate Edition. Sales and Support Professional editions allow building 10 each, while Ultimate edition lets you create 25 extra modules. Sales Starter edition is required to be upgraded to utilize Module builder.
Note: Only Administrators can create and avail custom modules.
More about Modules and Relationships can be found in details in this article: Analysis Of Module Layouts And Fields In Vtiger 7
Designing a Required Module
Developing a custom module in Vtiger 7 is easy
First of all click App Switch Icon located on top left
Go into Settings
And select Module Manager
Then click Module Builder button
Step 1: Basic Info About the Module
By clicking onto the Module Builder button, a wizard box will appear that will lead you through the process step by step.
In the first step, following are the fields you need to fill out. Fields with red * are mandatory.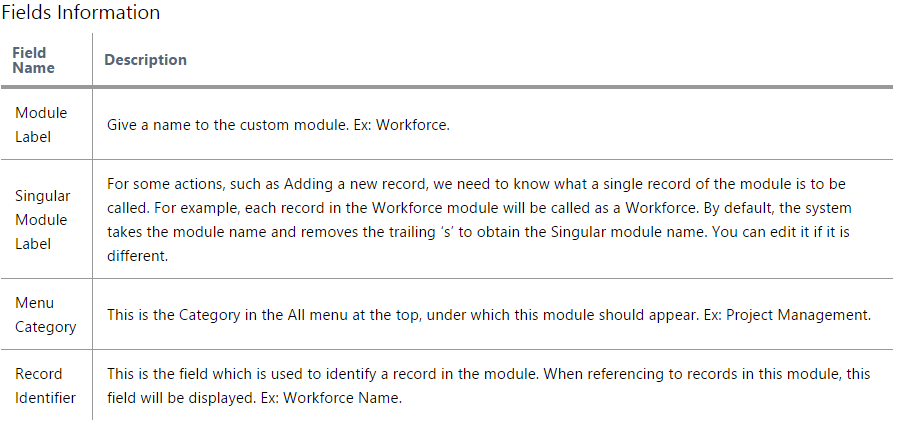 Click Create to save the current changes and go to the next step.
Step 2: Adding Secondary Information to the Module
This stage gives a lot of new options. Custom fields and blocks can be added to your module with the help of + ADD BLOCK, + ADD NEW FIELD, and + ADD CUSTOM FIELDS Tabs.
Click Next when all of the desired instructions are provided.
Step 3: Fashion the Columns and their Order
The basic information like workforce, task assigned to, defined time etc. can be exhibited in the form of columns in this step. Arrangement of the columns can be customized as well.
Step 4: Connecting Modules
You can also develop a relationship among modules in the last step of the wizard.
For that, press the + ADD RELATIONSHIP button.
It will open up a new set of options. Vtiger 7 lets you complete this complex task quite thoroughly with the help of neatly arranged resources. Just drop down the Select Related Module menu.
Select the desired relationship: One to One, One to Many, Many to One, Many to Many.
Add the reference field for both the modules. You can add multiple relationships with the default modules.
Finally press the Save

Go to the App Switch Icon and then Project Management to view all of the created modules.
Delete when Done
When you no longer need a previously developed module, or just in case the limit for maximum modules is reached, it's time to do some deposing.
To do so, go to the App Switch Icon > Settings > Module Manager, and search for the desired Module Name like Workforce, Created Time etc.
Then click on its Settings located on the right and Delete from the drop-down list.
Confirm your operation.