There is no doubt about the importance of VTiger's Document module. You can perform a lot of tasks with the module, but a couple of features are missing that may become very handy. Have a look at those features, covered very professionally by VTExperts with these extensions.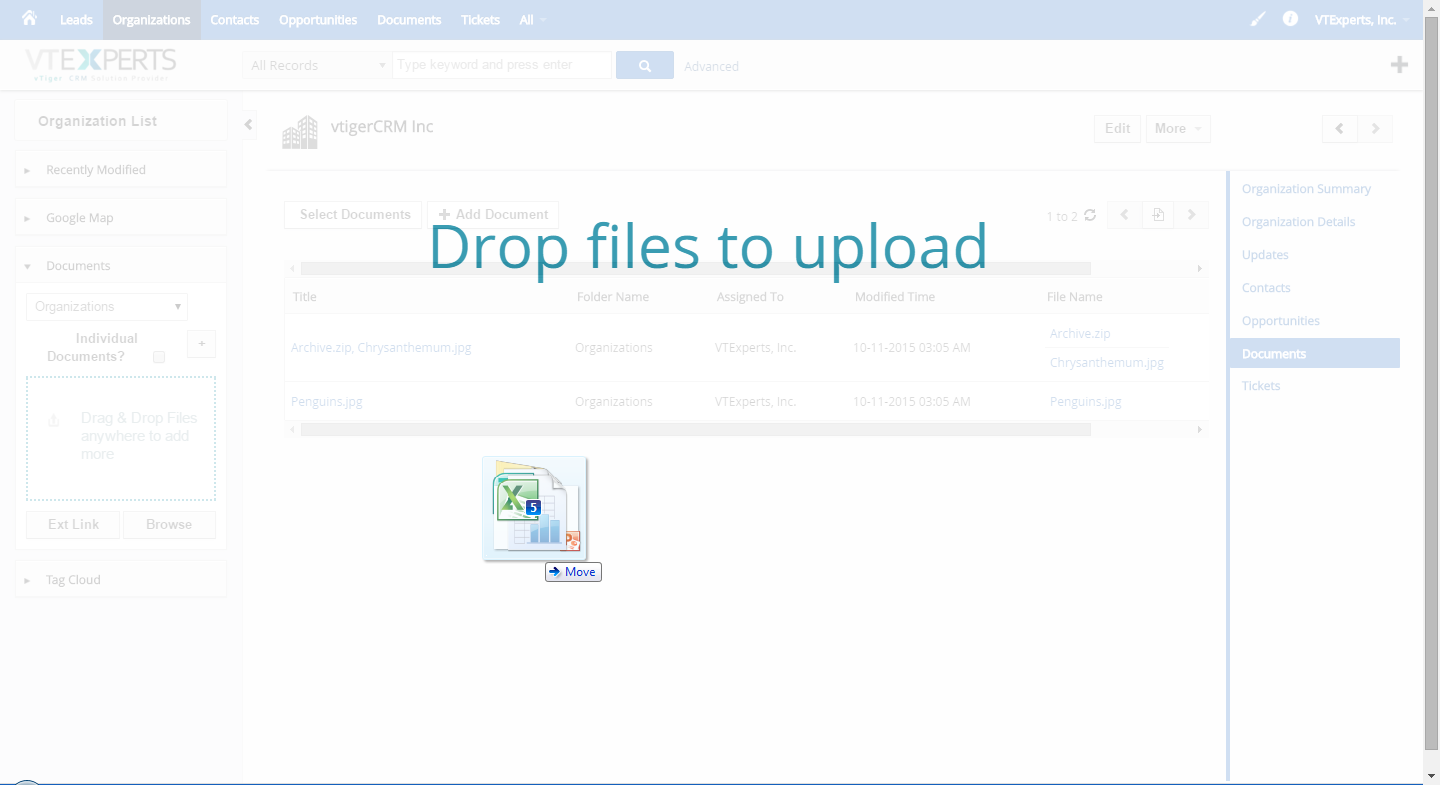 Just imagine creating one or multiple document records by simply dragging and dropping file or files anywhere on the screen. That is the potential of VTiger Document Manager. Being the top VTiger extension for Documents & Files/Folders management on the marketplace, it helps to keep all of the files organized. Plus, now you can see the user to whom the file belongs. You won't have to go anywhere; the document and list themselves state the ownership.
The extension is very accommodating in saving you precious minutes. It just takes about 30 seconds to open a document record, browse, select the file, fill out the fields with VTiger Document Manager, not to mention the 2 seconds phenomenon to drag and drop files anywhere on the screen.
Key Specs:
The most convenient Drag & Drop functionalityto create document records
Allows to drop the Document ANYWHERE on the screen
Enhances existing Documents module by allowing to create andupload multiple files to one document record
Includes elaborated Folder Organizing Structure
Create folders on the go
Design one document record and add multiple files
Widget includes buttons to form external link with just having to input the URL
Ability to define default folders for each module
Shows the ownership straight away from the document list-view & the detail/edit view. No need to go wander around
Versatile Configuration Panel to stipulate default folders, enable/disable the widget and more
Module Manager Compatible
Available on VTiger Marketplace
For details like video description, live demo, screenshots, and price, visit the Extension page.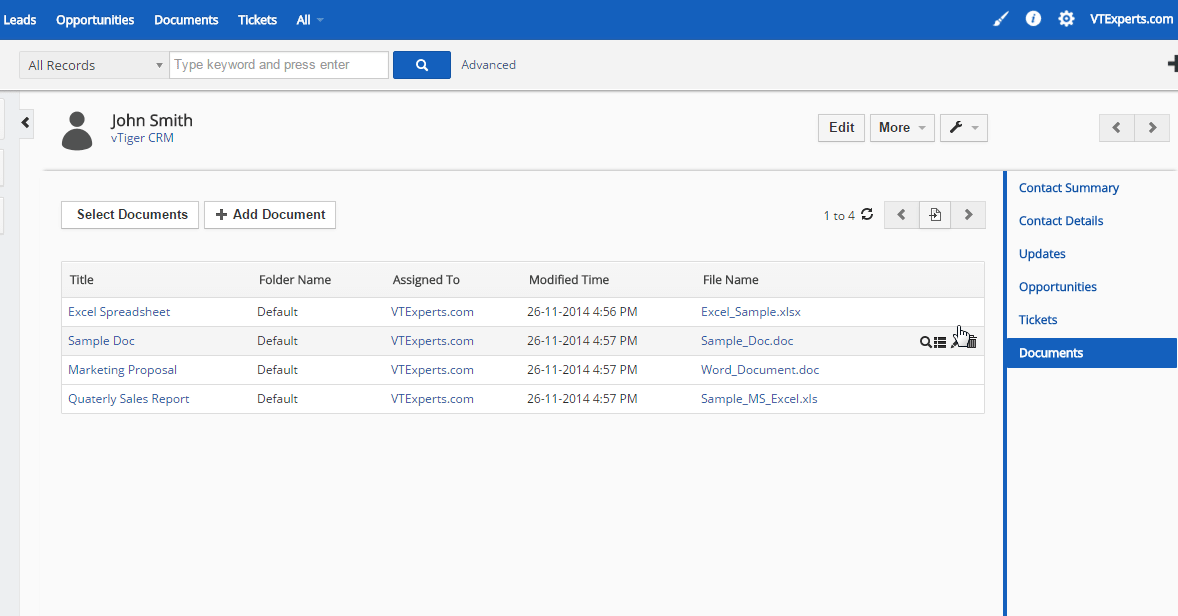 As the name states, this extension displays you the previews for VTiger Documents. Only, it does that in so many ways:
From the Documents list
From the Document Select Popup (on any module)
From the Document Related list (on any module)
To utilize all of the above mentioned features of VTiger Document Preview, there is no need to download or open the record. And, most of the common file types are supported that are mentioned in the list below. And, Google Docs is not required.
Key Specs:
Ability to preview Documentswithout opening the Document Record
Preview Documents directly from List view, Select Document Popup, & All Document Related List
Supports "External URL" for locally hosted instances
Supports Over 30 file types (.JPEG, .PNG, .GIF, .BMP, WebM, .MPEG4, .3GPP, .MOV, .AVI, .MPEGPS, .WMV, .FLV, .ogg, .TXT, .CSS, .HTML, .PHP, .C, .CPP, .H, .HPP, .JS, .DOC and .DOCX, .XLS and .XLSX, .PPT and .PPTX, .PDF, .PAGES, .AI, .PSD, .TIFF, .DXF, .SVG, .EPS, .PS, .TTF, .XPS, .ZIP, .RAR, .TAR, .GZIP, .MP3, .MPEG, .WAV, .OGG, .MTS)
Compatible with All Standard VTiger Modules
Does not modify core files – 100% Modular
Available on VTiger Marketplace
For details like video description, live demo, screenshots, and price, visit the Extension page.