VTiger 7 upgrade path is very similar to earlier versions. You will need to download the patch, extract it, backup your files/db and run the VTiger 7 migration wizard. This article provides step by step instructions to upgrade to VTiger 7.0.
VTiger 7 has a completely redesigned user interface and a lot of new features. If you haven't had a chance to test drive vtiger 7 – you can play around with our demo.
VTiger 7 Open Source Demo Link
If you are a 'do it yourself' type of person  and have enough knowledge about VTiger and its' upgrade process – you should be able to do it yourself. On the other hand, if you consider your data too valuable to not risk, we at VTiger Experts can execute it for you. Our developers are skilled and highly experienced in upgrading VTiger to the latest version.
#1: Creating Backup of the CRM Files and Database
This is the most important step. The upgrade can be tricky and complex, and may not go as you plan. So, backup your database and file system, not as a precaution but as the first step. In the unfortunate case of losing your data, you'll not actually lose it.
Make sure you have complete database backup(mysql dump) and file backup(vtigercrm folder).
#2: Download VTiger 7.0 Patch File
After the successful completion of backup of database and file system, next step is to download the patch files for VTiger 6.5 to 7.0. You can download the patch at the official website of VTiger.
#3: VTiger 7.0 Upgrade's Pre-stage
Place the downloaded patch(#2) in the VTiger directory. Default VTiger directory looks like this: "/var/www/vtigercrm/". If this is the case, put the downloaded patch in the same path i.e. "/var/www/vtigercrm/". VTiger directory will vary based on your hosting provider.
Next, extract vtigercrm-650-700-patch.zip. You will be asked to overwrite multiple folders (migrate, modules,Migration) – please do that. Once extracted, you will have vtiger7.zip and those folders overwritten.
Next, change the permissions of vtiger7.zip  to "777" using FTP/SSH client or the CPanel.
For unix servers, just do 'chmod -R 777 vtiger7.zip'
#4: VTiger 6.5 to 7.0 Migration/Upgrade
Considering that all of the previous steps were run successfully, you can now proceed to the actual VTiger 7 upgrade/migration wizard.
Open the VTiger using Chrome or Firefox (do not use IE for the upgrade process)

Tip: for chrome users – incognito mode is recommended.

Sign out of the VTiger account (signing out is necessary)
Delete your browser's Cache (either Chrome or Firefox)
Type this link in the browser bar http://www.yourvtigercrm.com/migrate/.
When migration page for VTiger CRM shows up, these steps should be performed:

Check "I have taken the backup of database"
Check "I have taken the backup of source folder"
Provide admin's username, if not disabled, it's 'admin'.
Provide the password
Press "Start Migration"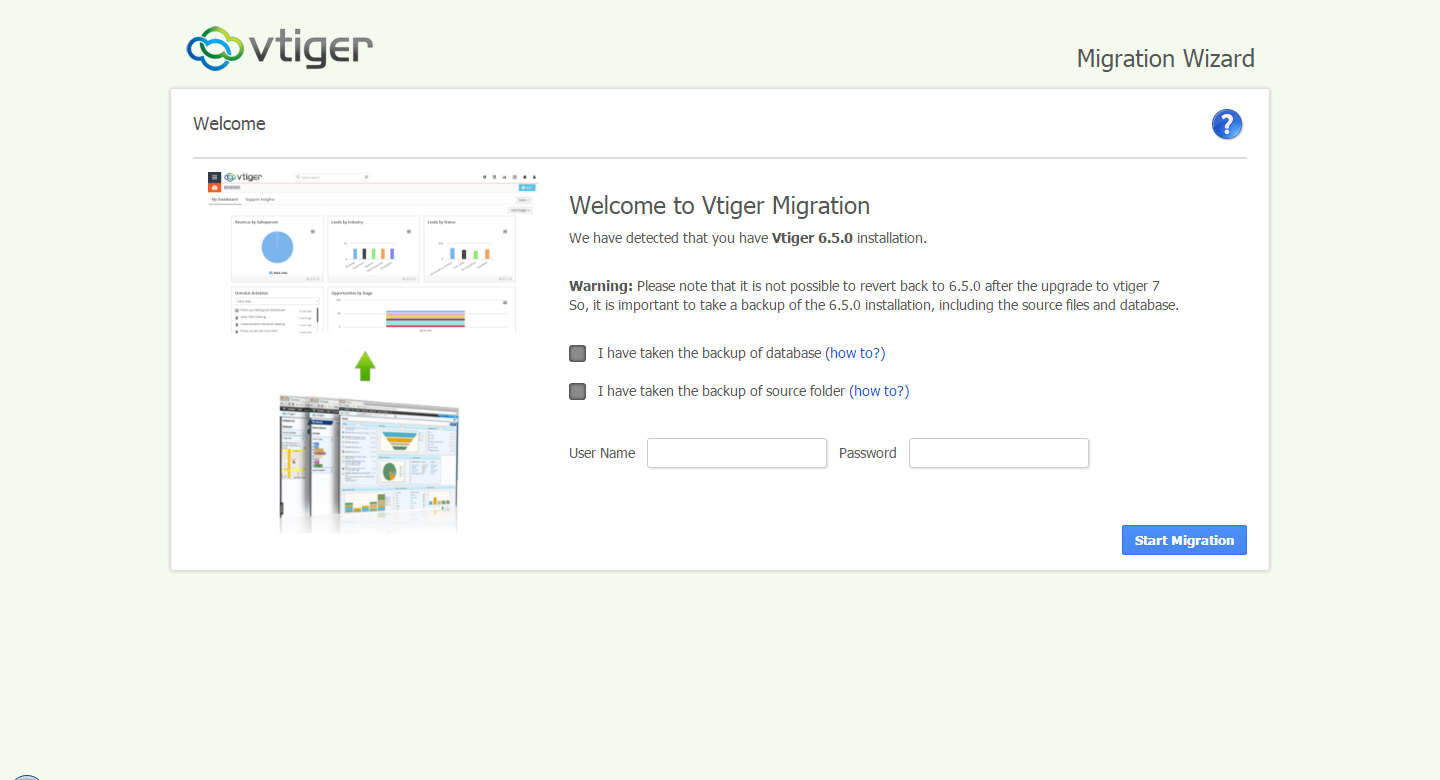 Note: After you hit "Start Migration", you might be redirected to  your vtiger login. If you are – login and you will have to go through step #4 again, do that and it should take you to the next step.
It will begin the migration of VTiger CRM to version 7.0. It takes 5-10 minutes depending upon the size of your database. The progress bar will display the headway. However, there is no way to get the details of the process underway.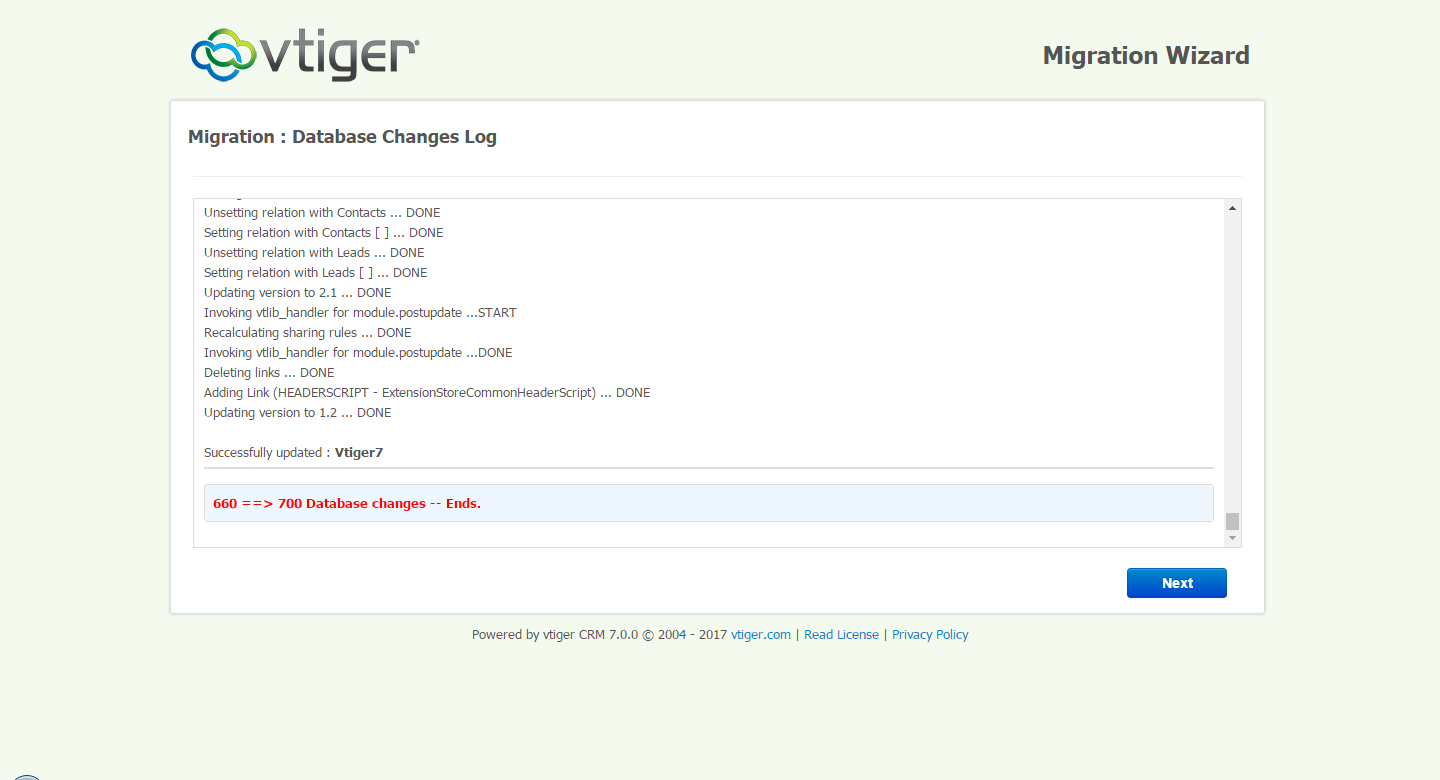 After completion, post-upgrade log will be shown automatically that will help you to assess the successful completion of the update.
Note, if you see any errors in the log – take a screenshot of copy/save the log and report that to us. We will let you know if this is an issue or just a common error due to your database structure.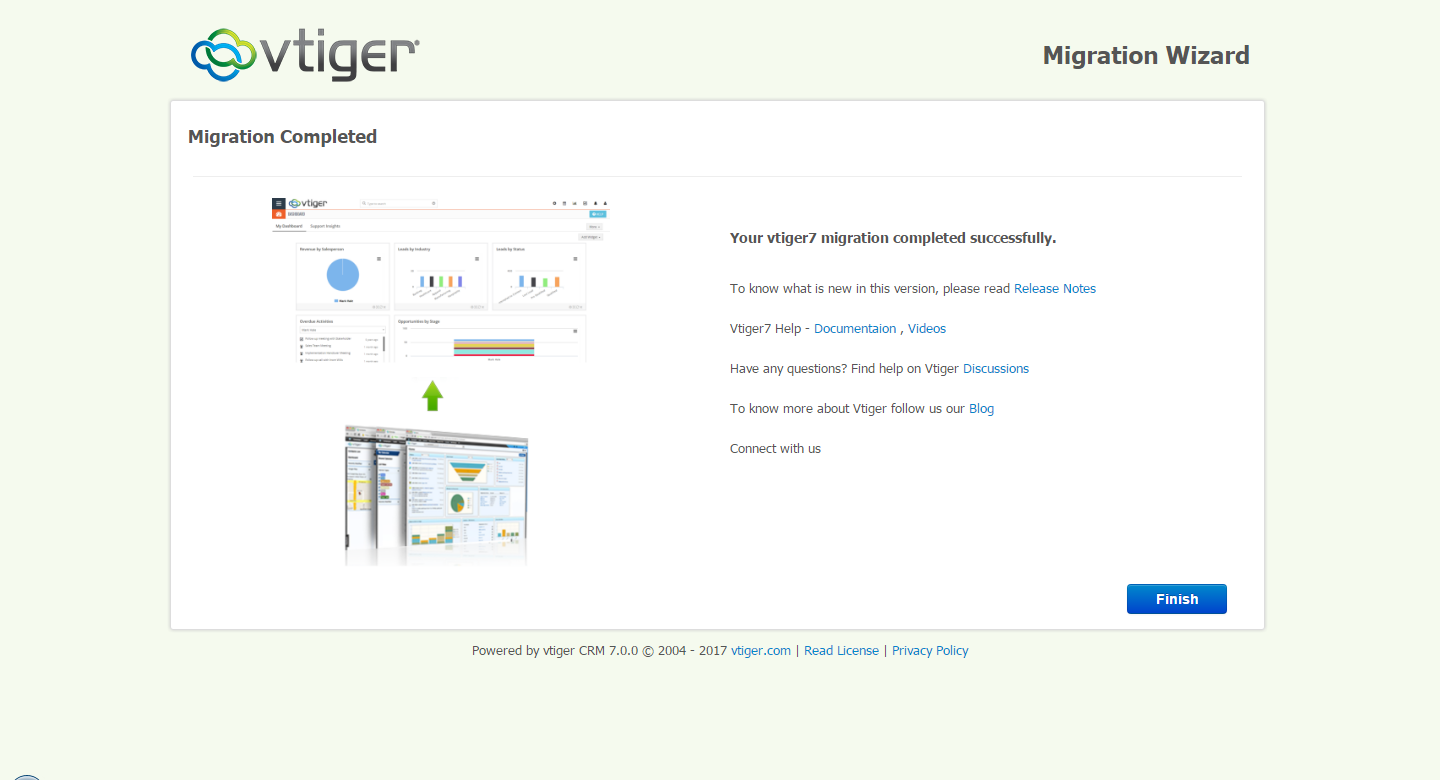 Lastly, hit "Finish" and you should be able to log into your upgraded VTiger 7.0!
Help Upgrading to VTiger 7.0
If you made through it – that's great! If you run into any issues – please contact us and we'll help with the upgrade.
For more details, question, or help, do contact us. We do not charge for consultation.